Review Date: March 11th, 2005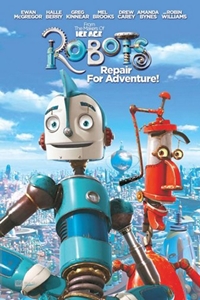 Robots, about a small-town metal man who wants to make it big in the big city, inspires us all with a heartfelt message to follow your dreams and never give up.

Story

In a mechanized world, an imaginative young inventor, Rodney Copperbottom (voiced by Ewan McGregor), wants to be as famous as his hero, the greatest inventor of all time, Mr. Bigweld (voiced by Mel Brooks). With his father's ''follow your dreams, and never give up'' ringing in his ears, Rodney leaves his small town and sets out to the big, bad Robot City to meet his idol and show him his invention. Once there, Rodney meets the Rusties, a ragtag group of street-smart bots, lead by the wacky Fender (voiced by Robin Williams), who know the ropes. Rodney finds out that Bigweld has gone into seclusion and Robot City is being taken over by an ambitious robot named Ratchet (voiced by Greg Kinnear), whose motto is ''Why Be You, When You Could Be New?'' Ratchet soon halts production on parts for the older robots. If the bot folk can't afford the new stuff, they are gathered up and sent to an underground chop shop, where Rachet's hideous mother, Madame Gasket (voiced by Jim Broadbent), melts them down and turns them into metal for new parts. But the evil duo's plan is soon spoiled when Rodney and the Rusties start fixing the older models and decide the must get the reclusive Bigweld back on track to fight back.

Acting

How can you go wrong with such a fabulous cast? They all do a great job including McGregor as the earnest Rodney Copperbottom; Brooks as the soft-hearted boss Big Weld; Kinnear as the vain and conniving Rachet; Broadbent as the repugnantly evil Gasket; Jennifer Coolidge as the hilarious and lovable big-booty bot Aunt Fanny; Halle Berry as the smart and seductive executive bot Cappy; and Amanda Bynes as the perky Piper, determined to prove herself. But, once again, voice over veteran Robin Williams steals the show as the broke down and chaotic robot, Fender. With his hundreds of voices and impersonations, animated films fit the frenetic Williams to a tee, making him the undisputed king.

Direction

Blue Sky Animation and Oscar-winning director Chris Wedge, who brought us the delightful Ice Age, are back, turning in another stellar animated effort. Robots is rivet-ing, transporting the audience into a world of mechanics, electronics and robotics. The best scene is when Rodney gets to Robot City and goes on a roller coaster ''cab'' ride with Fender through a maze of whirligigs and gadgets. Good fun. Added into the mix is a groovin' soundtrack that makes you want to get up and dance with the characters, while snickering at the songs' innuendos. Overall, Robots incorporates vibrant colors above the ground with dark, rusted images below, to bring to life this lively world of metal folk.

Bottom Line

With dazzling animation and an energetic cast, Robots warms the heart, proving that if you dream big and work hard anyone can shine--even a robot.