Review Date: November 10th, 2011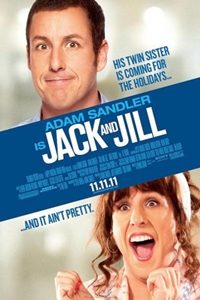 In the opening scenes of the new ''comedy'' Jack and Jill, commercial director Jack Sadelstein (Adam Sandler) and his business partners take a break from the set of their Regis Philbin-starring Pepto Bismol commercial to discuss the prospect of landing Al Pacino for a new Dunkin' Donuts spot. Even with the pressure mounting, the idea of landing the A-Lister is the least of Jack's worries—his real stress stemming from his heinous twin sister Jill (also played by Sandler), who is scheduled to visit for Thanksgiving. We don't know much about Jill at that point, but even the prospect of spending a few days with his sibling prompts the cankerous Jack to chug an entire bottle of the commercial's pink antidiarrheal product.

Turns out, the medical cocktail was quite appropriate. By the end of Jack and Jill, kicking back an entire bottle of Pepto Bismol may be the first logical step to curing the gut-wrenching feeling induced by the movie's painfully lazy antics. To call the latest from Sandler's Happy Madison Productions (Paul Blart: Mall Cop, Grown Ups, Bucky Larson: Born to Be a Star) a bad movie isn't strong enough. Nor is describing it as a complete void of comedy. And the movie doesn't even come close to a so-stupid-its-funny scenario. No, Jack and Jill is honest to goodness mental destruction—a collision of half-baked comedy sketches, violent potty humor, shrouded racism, shotgun celebrity cameos and unapologetic product placement. There is more coherency, care and consideration poured in to a child's spin art painting than any moment Sandler or director Dennis Dugan whip up for this film.

From the movie's very first moments to its obvious, ham-fisted conclusion, the mere presence of Jill sends Jack into a temper meltdown—and it's not hard to see why. Sandler's lady from the Bronx is a loud, abhorrent, self-loathing woman, an obtuse fish-out-of-water who sees no issue with stereotyping Jack's adopted Indian son or using phrases like ''make chocolate squirties'' after a night of chimichangas (may I recommend Pepto Bismol?). The script would like us to feel sympathetic for Jill as she's turned down by every man she meets, adding to her existing physical appearance woes (''I'm too fat!'' she declares, before hopping up on a horse and crushing it under her own weight). Unfortunately, it's obvious that no one behind-the-camera actually gives a damn about her or any of the other characters to help realize that struggle honestly or humorously.

Knowing the movie can't entirely rely on Jill's flatulence to baffle its audience, Jack and Jill employs a number of shameless drive-by appearances from across the Hollywood spectrum to replace actual entertainment. Johnny Depp, Jared the Subway Guy, Shaq, Bruce Jenner, the Sham-Wow Guy and Drew Carey (who Jill meets while embarrassing herself on The Price Is Right) all stop by for a cheap laugh. Maybe that's a good thing—the cameos are nonsensical enough to distract from Jack and Jill's plot, one that trudges along at a glacial pace as Jill finds ways to stay at Jack's house and ruin her brother's life.

Sandler recruited Katie Holmes and Al Pacino to fill the film's two non-twin roles and, to the benefit of their careers, he gives them little to do. Holmes isn't given a single scene in which she does anything more than rag on Jack for hating his sister or detach objects her son perpetually tapes to his body (a pepper shaker, a hamster, a bird, a lobster). Pacino has a meatier role, one that you may even expect to garner a few laughs, spoofing his thunderous thespian self who melts at the sight of Jill. But the material director Dennis Dugan bestows on the legendary actor is scraped from the bottom of the barrel. Not even Pacino can make passing off gibberish as a foreign language funny. The saving grace for the movie is watching Pacino go method and pursue Jill as Don Quixote from The Man of La Mancha. At that point, the reference is a reminder that out there, somewhere beyond the movie theater/black hole playing Jack and Jill, is a world full of culture and class.

Jack and Jill isn't really a movie, but more of an extended Royal Caribbean Cruises commercial with a Dunkin Donuts dance number set to an extended fart exploding from a dragged-out Adam Sandler's buttocks. The bar for entertainment value has never been set lower than this film, an experience so toxic to the mind that, along with its PG-rating, should carry a warning label from Surgeon General.

Better make it two Pepto-Bismols.

Hollywood.com rated this film 1/2 star.