Review Date: May 3rd, 2010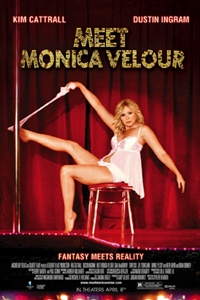 Like the depression-era brass-and-bass pop hits that its wiry protagonist covets, Meet Monica Velour is a pleasant little ditty that plays smoothly and entertains from start to finish. Anchored by a refreshing turn from Kim Cattrall as the title character, Keith Bearden's feature debut is a firm freshman effort, one that will undoubtedly grant the film journalist-turned-filmmaker a crack at something bigger.

A high-concept coming-of-age story with a significant social message, the movie centers on seventeen-year-old Tobe Hulbert (Dustin Ingram) – an innocent and awkward recent high school graduate on the verge of a breakdown from boredom. The only solace he finds in his mundane existence comes from collecting assorted pop-culture items: vintage records from the 1930s, comic books from the '40s and, most interestingly, pornography from the late '70s and '80s. When he hears about a rare appearance by his lifelong porn star crush at a sleazy strip club four states away, Tobe leaves his drunken grandfather's home and heads to Indiana to finally meet Monica Velour.

Of course, after thirty years of professional wear and tear and marital and substance abuse, Ms. Velour is nothing more than a decaying façade of the glimmering beauty she once was. Spiteful and world-weary, Cattrall shines through the runny make-up and cheap outfits her character has become accustomed to and delivers an authentic portrayal of a woman who walked on the wild side and came through a marvelous mess. Her performance, along with the nostalgic reminiscence of porno's home-video heyday, offers a loving nod to the skin-flick industry while poking fun at its ludicrous, unnecessary plot lines and C-rate production values.

While Ms. Cattrall will help sell tickets, young Dustin Ingram steals the show as the nebbish Tobe. Looking and acting like the bastard child of Napoleon Dynamite and Johnny Depp's Willy Wonka, the twenty-year-old actor taps into the misery of America's disaffected youth and turns it into enjoyably wry comedy that shares its tone with the picture as a whole. Writer/director Bearden brightens his character's bleak outlook on life with vibrant colors that convey the magic of Americana that fuels the film as well as his protagonist's quest.

Though the movie may be likened to popular teen comedies like The Girl Next Door, Porky's or Fast Times at Ridgemont High, underneath the crude humor and sex jokes is a poignant story of an unlikely friendship between a faded star and her number one fan. There is a great deal of emotional depth to both the characters and the narrative and though the relationship between Monica and Tobe is mostly comedic, Bearden allows the mold to be broken at times to reveal a genuine connection between these two lost souls. Furthermore, the picture attacks the hegemonic perspective of the aging woman in a society that worships youth and beauty and is quick to dispose of one who is past her prime. It has more in common with Juno and Little Miss Sunshine than the aforementioned mainstream studio movies and, like both of those critical darlings, deserves to be picked up for wide distribution, where it will surely prosper.

Hollywood.com rated this film 3 1/2 stars.