Review Date: January 7th, 2011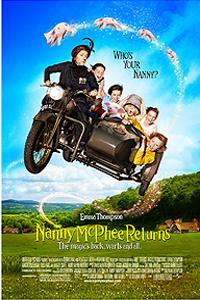 Animated films may come to dominate the family-film genre, but they'll never entirely edge out their live-action counterparts -- not so long as there exist characters like Nanny McPhee, whose charms could never be properly rendered in a computer. After a half-decade away from the big screen, Emma Thompson's magical governess is back to take on a new batch of recalcitrant children in Nanny McPhee Returns. She's gotten better with age.

The second chapter of the Nanny McPhee saga, which marks a definitive improvement over the first, sends the unsightly taskmaster to the English countryside, where Isabel Green (Maggie Gyllenhaal), the mother of three rambunctious tots (Oscar Steer, Asa Butterfield, and Lil Woods), has been left alone to raise her unruly brood and manage the family farm while her husband is away at war. (Though it's never specifically mentioned, the film is presumed to take place during World War II.) Harried but capable, Isabel's tenuous grip on her unfortunate situation begins to loosen when a pair of privileged London cousins (Eros Vlahos and Rosie Taylor-Ritson) and a shady, indebted brother-in-law (Rhys Ifans) arrive to wreak fresh havoc in her already chaotic existence. On the verge of losing control of both her farm and her family, she opens the door to find Nanny McPhee's wart-covered visage staring back at her, and not a moment too soon.

Though for the most part a breezy and whimsical fable, Nanny McPhee Returns is unafraid to scatter a few dramatic bombshells amid its mix of lighthearted fantasy and practical life lessons, trusting correctly that its youthful audience can handle a few bleak bumps en route to its happy ending. The biggest revelation of the film, aside from director Susanna White and screenwriter/star Thompson's bawdy comedic sensibilities (one of the film's less pleasant lessons: kids never tire of scatological humor), is the proficiency of its child actors, so often the weak link in even the best family fare. It's their winning performances, along with that of the always excellent Gyllenhaal, that help make Nanny McPhee Returns not just an entertaining experience but an endearing one as well.

Hollywood.com rated this film 3 1/2 stars.