Review Date: October 7th, 2005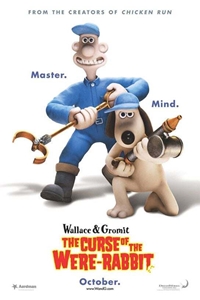 In this delightful animated feature from Oscar-winner Nick Park, the fate of the annual giant vegetable competition rests in the hands of Wallace and Gromit--their pest control expertise must save the competition from the beast known as the Were-Rabbit.

Story

With only days away to the annual competition at Tottington Hall, and rabbits running wild, business at Wallace (voiced by Peter Sallis) and Gromit's Anti-Pesto pest control is booming. Animal lover, Lady Tottington (voiced by Helena Bonham Carter), who hosts the yearly competition, calls Wallace and Gromit to her home to rid the grounds of the vegetable-eating rabbits, but as compassionately as possible. Of course, Victor Quartermaine (voiced by Ralph Fiennes), the town's hunter and wooer of Lady Tottington, would just like to shoot all the rabbits but that's not Totti's way. So, armed with their Bun Vac 6000, capturing bunnies at 145 RPM's (that's rabbits per minute), Anti-Pesto humanely rids the town of the produce-destroying rodents, while storing them safely in Wallace's basement. But when one of Wallace's inventions to cure the rabbits of their eating habits goes horribly wrong, the town is faced with an oversized vegetable eating Were-Rabbit. He comes alive with the moon, has teeth the size of axe blades, and may be the end to the towns beloved competition. It's up to Wallace--or more to the point, Gromit--to save the contest and capture the beast.

Acting

Peter Sallis has been giving voice to Wallace since the first Wallace & Gromit adventure, 1989's Wallace and Gromit: A Grand Day Out and is consistently top notch as the cheese-loving English inventor. Bringing life to the red-lipped Lady Tottington is Helena Bonham Carter, who seems to be making a nice name for herself in the voiceovers these days, having already done Corpse Bride. Her sweet voice is perfect for the sensitive humanitarian. As the gun-loving bad guy, Ralph Fiennes' is the eccentric and formidable voice of Victor Quartermaine, the man vying for Totti's hand in marriage. Whether he is trying to shoot rabbits, or losing his hair piece, Fiennes' comedic skills do shine. But Gromit is the star of the movie, without ever having to say at all. He doesn't have to--clearly, you know what he's thinking. The dog is extremely dedicated to Wallace, solving all his master's problems.

Direction

With the help of Chicken Run's Steve Box, creator Nick Park has pinned the tail on the rabbit with Wallace & Gromit: The Curse of the Were-Rabbit. Having won Oscars for his short films, Wallace & Gromit: The Wrong Trousers and Wallace & Gromit: A Close Shave, he may be looking at another one with this appealing first full-length film featuring the lovable duo. Wallace and Gromit are Park's brain children--and he clearly loves them. With embellished teeth and bad ears, Wallace is appropriately exaggerated, while Gromit gets to give hilarious side glances to the camera every time Wallace screws up. Meanwhile, the buildings, cars, and even the veggies look so real, it's exhausting just to think how much time it must have taken to manipulate all that clay. Park also infuses oh-so-British sensibilities into this characters, so the adults will be entertained. For example, when Lady Tottington tells Victor that he doesn't take an interest in her ''produce,'' she's standing with two enormous pumpkins at her chest. Wink, wink, nudge, nudge, what? Park and Box make this 85 minute film feel like a half hour with its quick moving plot line, making it perfect for children.

Bottom Line

Sure, Wallace & Gromit: The Curse of the Were-Rabbit is a children's movie, but it has enough high-spirited comedy to keep the adults entertained as well.