Review Date: January 6th, 2011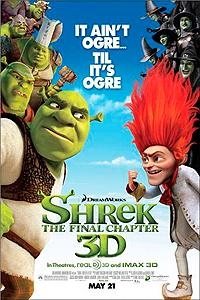 While the first two Shrek films scored high praise from both critics and audiences, the third installment of the animated saga, 2007's Shrek the Third, was widely considered a letdown, a signal that Dreamworks' wildly successful franchise had finally jumped the shark. But that didn't deter the studio from greenlighting a fourth Shrek film, Shrek Forever After, with the somewhat dubious assurance that it would be the last to feature the titular green ogre.

The plot of Shrek Forever After in many ways reflects the creative fatigue the filmmakers clearly feel: After fathering triplets with his wife Fiona (Cameron Diaz), Shrek (Mike Myers) has settled into a wearisome domestic routine of morning feedings, clogged bathrooms, and neighborhood pot lucks. But a domesticated Shrek is a boring Shrek, and he soon longs to escape the tedium of family life and return to the carefree days when all the creatures of the forest feared his roar. But how? He's stuck.

Or so it seems until a lispy local charlatan, Rumpelstiltskin (Walt Dohrn, doing a solid Paul Reubens impression), offers Shrek a magical "deal" enabling him to turn back the clock for a day and spend 24 hours without the oppressive dictates of family life, which the beleaguered ogre eagerly accepts. But fairytale contracts rarely come without hidden caveats, and Shrek soon awakens in a nightmarish bizarro world, where his family and friends have vanished and ogres are hunted by vicious gangs of witches. Worst of all, Rumpelstiltskin has managed to install himself as Far Far Away's decadent dictator, turning the castle into some sort of crazy lesbian nightclub where his witchy subordinates gyrate to pounding techno music.

Call it It's a Wonderful Shrek — or even Shrek to the Future, if you will. It's not the most original storytelling scheme, but it allows the filmmakers to essentially hit the reset button on the Shrek canon and re-introduce familiar faces like Donkey (Eddie Murphy) and Puss in Boots (Antonio Banderas) in slightly tweaked form. Fiona is no longer a dainty princess awaiting her savior, but the butched-out (this emerges as a trend in the film) leader of an underground ogre resistance plotting to free Far Far Away from its effete Napoleon and his haggish minions. In order to avoid vanishing from history entirely, Shrek has to woo her all over again — a task made harder by her newfound independent streak.

Fans of Shrek will be happy to know that Shrek Forever After — its weird butch/femme dynamic notwithstanding — marks a definite improvement over its predecessor. That said, it won't likely inspire any grassroots campaign to convince Dreamworks to reconsider its supposed decision to retire the character for good. The film works partly because it carries more modest aspirations, largely shunning the laugh-a-minute pace and copious pop-culture humor that characterized the first three installments. The franchise is clearly running on fumes, but this film has just enough laughter in the tank to make it to the finish line intact.

One final note: The 3D aspect of Shrek Forever After is surprisingly mundane, adding little to the overall viewing experience. It's disappointing, considering that Dreamworks just recently did such terrific work on the 3D sequences in How to Train Your Dragon. Save your cash and hit a 2D showing instead.

Hollywood.com rated this film 3 stars.