Review Date: December 24th, 2009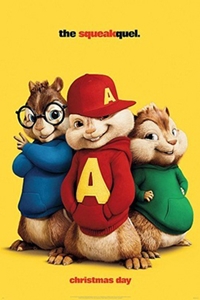 Just in time for Christmas comes Alvin and the Chipmunks: The Squeakquel, a giant, furry lump of coal in the stockings of fans of quality filmmaking everywhere. The latest episode, which picks up soon after 2007's absurdly successful live action/CGI hybrid Alvin and the Chipmunks, finds the titular singing rodents on uncertain ground after their manager/guardian, Dave Seville (Jason Lee), is injured in a freak concert accident. (In a gimmick lifted right out of Revenge of the Nerds II, he spends the entire film in the hospital, bedridden.)

Dave's befuddled substitute, a videogame-obsessed ne'er-do-well named Toby (Zachary Levi, wielding a strained slacker schtick even less convincing than his bumbling geek act in Chuck), is ill-suited to helping Alvin, Simon and Theodore handle the rigors of high school or deal with the challenge of a rival, all-female singing chipmunk trio, the Chipettes. With dissension in the ranks and a decisive battle of the bands looming, the three brothers must find a way to overcome their differences and rekindle the magic that first propelled them to the top of the charts.

In theory, adding a girl group to the mix roughly doubles the selection of songs to choose from, but the actual singing and dancing in Alvin and the Chipmunks: The Squeakquel, presumably the whole point of this tedious exercise, feels greatly reduced in comparison to the first film. (I wouldn't know for sure — I'll be damned if I sit through another screening torturous screening of it.) Which, depending on your perspective, may not be a bad thing. Personally, I found it to be a double-edged sword: Fewer excruciating, squeaky-voiced covers of songs like "We Are Family" and Beyonce's "Single Ladies" means more room for lame jokes and awful acting, both of which can be found in ample amounts.

As with its predecessor, this Squeakuel is the perfect movie for those who find Teletubbies and Dora the Explorer a little too highbrow.

Hollywood.com rated this film 1/2 star.