Review Date: October 21st, 2009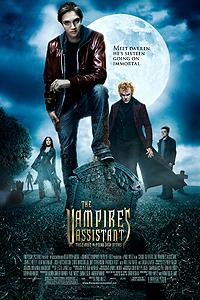 Staking a rather weak claim for placement alongside the venerable Twilight in the growing oeuvre of teen vampire flicks is Cirque Du Freak: The Vampire's Assistant, based on Darren Shan's popular series of young adult novels. Compared to Stephenie Meyer's celebrated books and their subsequent movie adaptations, Cirque is quirkier, more irreverent and more male-oriented. (The latter is best exemplified by the presence of Salma Hayek, whose ample assets are on conspicuous display throughout.) It's unfortunate that it doesn't make for a better film.

Relative newcomer Chris Massoglia stars as Darren (in a classy move, the book's author named the character after himself), a reasonably well-adjusted 16-year-old whose comfortable suburban existence contrasts sharply with that of his best friend Steve (Josh Hutcherson), an inveterate troublemaker with a deadbeat dad and an alcoholic mom. Uh-oh — methinks this combustible pairing could be recipe for future, possibly momentous squabbles, no?

For all their differences, Darren and Steve are united by a common interest in all manner of unusual and otherworldly phenomena, which leads them to the Cirque du Freak, a traveling sideshow with an eclectic roster of performers: Rhamus Twobellies (Frankie Faison) boasts twin stomachs, while Alexander Ribs (Orlando Jones) has no midsection at all; in addition to being freakishly endowed, Madame Truska (Hayek, duh) can grow a lengthy beard within seconds; Gertha Teeth (Kristen Schaal) can bite through anything; Corma Limbs (Jane Krakowski) can chop off and re-grow appendages; and so on. Headlining it all is Larten Crepsley (John C. Reilly), a charismatic magician who also happens to be a closet vampire.

Unforeseen circumstances force Darren to become an indentured servant to Crepsley, the first step of a strange journey in which he becomes half-vampire, rooms with a sensitive snake boy (Patrick Fugit), romances a sassy monkey girl (Jessica Carlson), gets accosted by shriveled Gollum clones, and is eventually drafted into a centuries-long war between the peaceful, human-friendly Vampires and their fiendish archrivals, the ravenous Vampanese.

All of this may sound genuinely exciting, but that excitement seems to have been lost somewhere during Cirque Du Freak's leap to the big screen. After trying for nearly two hours to make sense of the film's distractingly disjointed storyline, littered with aimless subplots, it came as no surprise to me to learn afterward that its screenplay shoehorned three of Shan's novels into one film. Needless to say, it did not succeed. And director Paul Weitz (About a Boy) doesn't help matters, infusing the action with jarring cuts and awkward transitions that only serve to amplify the holes in the narrative.

The one bright spot in Cirque Du Freak is a sublime performance from the ever-likable Reilly, whose pale, schlubby Atlas alone holds up the movie's fragile, lumbering frame for the bulk of its running time.

Maybe that's why he looked so tired by the end.

Hollywood.com rated this film 2 stars.