Review Date: November 7th, 2008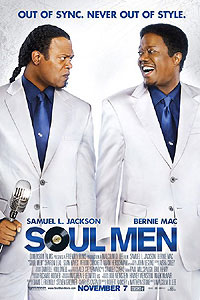 Considering Soul Men represents the final screen work of both Bernie Mac and Isaac Hayes, it would be nice to report that it is worthy of their talents. It's not.

Story

In yet another variation on the shopworn road picture in which two mismatched former buddies are forced to cross the country together, Soul Men's uneasy brand of overly broad humor and contrived situations is saved intermittently by some cool musical numbers. But alas, it's not enough. Louis (Samuel L. Jackson) and Floyd (Bernie Mac) are part of a major musical group, led by Marcus Hooks (John Legend) who goes solo, leaving Floyd and Louis in the lurch. Fast forward 20 years, Hooks has died, and Louis and Floyd, who did not end on good terms and have not spoken since, have been coerced into appearing a tribute show for Hooks at New York's famed Apollo Theatre. Afraid to fly, they get in Floyd's 1971 Cadillac El Dorado, accompanied by a talented young woman (Sharon Leal) who may be Floyd's daughter. Along the way they try to get their act up to speed by appearing in various redneck honky tonks, filling the interminable 103-minute running time with a lot of unfunny sexual encounters and unbelievable situations.

Acting

The late Bernie Mac was a terrific comic talent and is highly wasted in this mishmash, in which he is constantly encouraged to mug for laughs. Mac is so much better than the lowbrow material he has to work with here that it's a shame this film should stand as one of his last (at least there's Madagascar 2). Faring even worse, however, is Samuel L. Jackson, who is out of his element in a musical comedy and seems to be taking none of this hokum seriously. Thankfully, the soulful musical numbers, reminiscent of classic '60s Sam and Dave R&B, are well chosen and capably performed, even though neither Mac nor Jackson are known for their singing. Best number in fact is fronted by John Legend, making his acting debut as Hooks. As the young eager beaver manager trying to get Floyd and Louis back together, Sean Hayes is way too broad. Faring better is newcomer Adam Herschman, as Hayes' mop-topped intern who uses his fanboy infatuation with the pair to nice advantage. And there's a nice, now bittersweet, bit near the end with the late Isaac Hayes.

Direction

Malcolm Lee (Undercover Brother, Welcome Home Roscoe Jenkins) is a director who tends to go for the slapstick when a little subtlety and believability would be more in order. With a great Sunshine Boys premise and some nifty musical material to pepper the proceedings, Lee still manages to drop the ball, letting his talented actors down and encouraging them to chew up every scene. The corny, silly situations certainly doesn't help matters, with the road trip device feeling more like padding than anything else. Soul Men doesn't find the right rhythms.

Bottom Line

Hollywood.com rated this film 2 stars.