Review Date: May 30th, 2008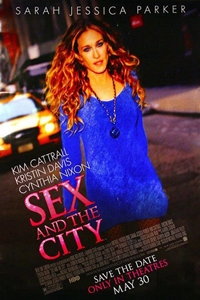 This big-screen adaptation might be a little glossier than we're used to, but it's also as familiar and comfortable as slipping into a pair of Manolo Blahniks.

Story

It's been four years since we last saw columnist Carrie Bradshaw (Sarah Jessica Parker) and her faithful best friends--Miranda (Cynthia Nixon), Charlotte (Kristin Davis) and Samantha (Kim Cattrall). The years have been kind to them: Charlotte is living her dream life with her loving husband Harry (Evan Handler) and adoptive 3-year-old Chinese daughter; Samantha has moved to L.A. to manage her boy toy Smith's (Jason Lewis) acting career and give monogamy a chance; Miranda is a working mom in Brooklyn, juggling her demanding career and her marriage to Steve (David Eigenberg); and finally Carrie, now a bestselling author who has settled into domestic bliss with her beloved "man friend" John James Preston, aka Mr. Big (Chris Noth). Domestic bliss? Carrie and Big? Is that possible? Well, let's just say the road to happiness still isn't smooth for any of them (save maybe Charlotte), but the film's outcome is a wholly satisfying experience.

Acting

For our four lovely leading ladies, reprising their Sexy alter egos must have been like riding a bicycle. Parker, Nixon, Davis and Cattrall defined their SATC roles so succinctly during the HBO show's six-year run that watching them again feels as if they never stopped. Parker especially eases right back into Carrie mode, albeit older and wiser. Gone are her earlier, youthful hang ups about commitment replaced by a stronger, more mature Carrie--who still has her quirky insecurities. And of course, her fabulous one-liners still fly fast and furious ("I need to get out of this Mexi-coma" is a personal favorite). Oscar-winner Jennifer Hudson adds a fifth element to the proceedings as Carrie's smart and sassy assistant, who has firm belief in love. The men of SATC also fit right in again. Noth's Big in particular continues to frustrate but ultimately becomes the man we all knew he could be.

Direction

The road to a big-screen adaptation of Sex and the City was also not a smooth one. After the show ended in 2004, there were immediate talks about doing a movie version. But not everyone in the cast was ready to continue the gig--namely, Kim Cattrall, who decided she needed a break (and possibly more money). Still, through the perseverance of producer Sarah Jessica Parker and writer/director Michael Patrick King, SATC The Movie finally became a reality--and we are very thankful that it did. Many fans just couldn't let go after the show's series finale; they wanted more. And so the film gives back in spades, bringing us back into these women's lives for awhile longer--almost to a fault, actually. The half-hour TV show was perfect, but a SATC film at two hours and some change drags a little in the middle. There's also the fact the film is certainly grander, glossier in scale than the more grounded TV show. Nevertheless, it's just what the doctor ordered for those lovers of all things Sex and the City. Bring on the sequels!

Bottom Line

Hollywood.com rated this film 3 stars.