Review Date: August 1st, 2008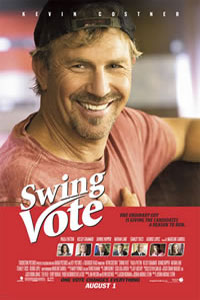 As the election season heats up, so do the politically-themed movies--and right out of the gate is Swing Vote, a non-stop laugh machine which proves itself to be a landslide comedy winner.

Story

Considering how close the last two presidential elections were, including the 2000 race between Gore and Bush that came down to hanging chads and the Supreme Court, it was probably inevitable that filmmakers would find a credible way to focus on a campaign that somehow comes down to just ONE vote. If you can accept that premise, you'll have a great time with Swing Vote, which manages to be so funny, and ultimately inspiring, you may just want to stand up and cheer. The seemingly incredible premise revolves around Bud Johnson (Kevin Costner), a beer-bellied perpetual loser and divorced dad who finds himself at the epicenter of a major presidential campaign--thanks to his super smart and socially aware 12 year-old daughter Molly (Madeline Carroll), who, fed up with Dad's disinterest, forges his name and sneaks in to cast a vote on her own. When there's an electrical malfunction, the ballot is nullified. But with the entire election coming down to a one-vote difference, authorities trace the vote to the clueless Bud, who is told he will have to recast his ballot in 10 days, an act that will elect the next president. As both campaigns and the media take over the town, Bud Johnson quickly learns the truth of the old adage: Every vote counts.

Acting

Costner's hilarious pitch-perfect performance is one of his best. The actor is well-suited to playing this dumb but ultimately good-hearted good 'ol boy who could tell you the name of every Nascar driver but draws a blank when asked who he supports for president. His interactions with both candidates, as they shill for his vote, are priceless--managing to give the far-fetched proceedings an ounce of credibility and eventual Capra-esque dignity. In films like Field of Dreams, Bull Durham and the more recent The Guardian, Costner evokes the American spirit as well as any actor and even playing a goofball like Johnson still summons the decency buried somewhere in all of us. He's terrific. And so is Carroll, as the precocious Molly along with a first-rate supporting cast led by Kelsey Grammer and Dennis Hopper, as the opposing candidates who seem willing to sell their soul for Bud's favor. Grammer--as incumbent right wing President Andrew Boone--particularly oozes slick political slime, while Hopper--as the liberal environmentally PC Democratic contender--flip flops with the best of them. Also standing out are Nathan Lane as Hopper's beleaguered campaign manager and Stanley Tucci as his ethically challenged opposite number on the GOP side. You'll have lots of fun spotting numerous real-life TV pundits brought in to comment on the fictional race (Larry King, James Carville, Bill Maher and even Mary Hart, among them)

Direction

With only one other film under his belt (2005's straight-to-video "Never Was") Joshua Michael Stern shows great potential here, effortlessly mining the many laughs from his own screenplay (co-written with Jason Richman) and showing a sharp eye for political satire on the highest levels. He confidently guides his imposing cast with the style of a much more seasoned director and gets the most out of veteran actors. We even dare compare his achievement here to the politically tinged films of great Frank Capra (Mr. Smith Goes To Washington, Mr. Deeds Goes To Town), which seem to share some of the core values of Swing Vote. Stern shows he has an innate sense of the absurd taking an off-the-wall idea and setting it right in the heart of reality. Use of all the TV personalities gives an air of authenticity, but ultimately it's Stern's balancing act between high hilarity and a strong message about the core values of the American system that makes Swing Vote the winner it is. If you want to cast your vote for smart, witty and irreverent filmmaking, this is the movie you've been waiting for.

Bottom Line

Hollywood.com rated this film 3 1/2 stars.