Review Date: January 5th, 2011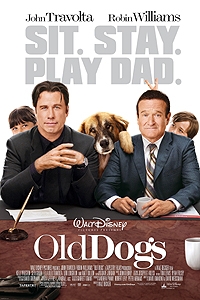 No, Bernie Mac hasn't returned from the dead. His last film, the family comedy Old Dogs, in which he enjoys a forgettable cameo, just sat on the shelf for a while before Disney finally decided to release it. And now we know why: It's bad. Unspeakably bad. Directed by Walt Becker, the man who gave us Wild Hogs, Old Dogs fails to even measure up to the low standards set by that mediocre (and absurdly successful) comedy.

Not that it doesn't try — stars Robin Williams and John Travolta practically beg for laughs as they cycle through Old Dogs' series of increasingly lame gags. Williams plays Dan, an uptight divorcee who discovers he's the father of seven-year-old twins — the result of a drunken escapade in South Beach. The madcap hijinks begin when the kids' scofflaw mother (Kelly Preston) shows up unannounced and places them in Dan's care for a weekend while she serves a brief prison sentence. With less than 72 hours to form a bond with his newfound offspring, he goes to increasingly desperate length to make up for lost time, embarking along with his best buddy (Travolta) on a whirlwind tour of contrived, lowbrow wackiness involving amorous gorillas, cross-eyed crones and copious crotch shots.

To be fair, good comedy is tough to pull off in a family-friendly, PG environment — it takes a literal army of Pixar writers to do it with any regularity — but Old Dogs' dearth of laughs borders on embarrassing at times. Disney should have put this mongrel to sleep. (Sorry — I couldn't resist a canine-related pun. Sue me.)

Hollywood.com rated this film 1/2 star.