Review Date: January 18th, 2008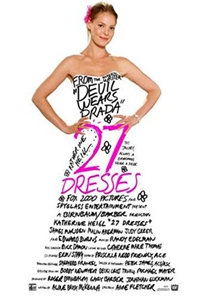 Although it incorporates every boy-meets-girl, romantic-wedding-comedy cliché there is, 27 Dresses still sort of grows on you, thanks to Katherine Heigl's engaging performance.

Story

Then there are the 27 really bad bridesmaid dresses Heigl's character Jane keeps in her closet. Quite spectacular, really--ranging from a Goth rocker dress, dog collar and all, to a rodeo Western dress, complete with cowboy hat. You see, the completely selfless Jane is pretty much the world's best bridesmaid. She's happy to put on the most heinous outfit because she knows this is her girlfriend's day and anything she wants, goes. Thing is, Jane forgets about taking care of herself, forever putting aside her own hopes and dreams. Then she meets Kevin (James Marsden), a newspaper reporter on the bridal beat who witnesses Jane's bridesmaid expertise one evening and decides a story about this wedding junkie is his ticket to journalism fame. Jane initially brushes him off--until her younger sister Tess (Malin Akerman) comes to town and steals the heart of her boss (Edward Burns), a man Jane has been pining for for years. With Kevin's influence, Jane finally realizes it's time to stop eating someone else's wedding cake and take a stand.

Acting

Heigl is on a roll these days. She got Knocked Up in one of last year's funniest comedies and then won the Emmy for her role on Grey's Anatomy. It makes sense she'd follow things up with 27 Dresses since she's now considered the new go-to girl for romantic comedies. Of course, Heigl as the "plain Jane" sister next to Akerman's glitzy blondie is a tad unrealistic, but Heigl totally sells it. The actress should be cautious about doing too many rom-coms, however, because she could pigeonhole herself and never be able to shake it (Meg Ryan, anyone?). Marsden and Burns are adequate as the love interests, with Marsden coming out of it smelling the sweetest. Akerman (The Heartbreak Kid) does what she can with the thankless role of bridezilla. But the real gem is Judy Greer as Jane's coworker and resident wisecracker. The supporting actress has done the "best friend" character in countless romantic comedies--and in wedding ones to boot, such as The Wedding Planner--but we never tire of her snarky enthusiasm.

Direction

Director Anne Fletcher's film career has been mostly as a choreographer, specializing in comedies such as Along Came Polly, The Wedding Planner and The 40-Year-Old Virgin (did they dance in that?). She got her directing break when they handed her the reigns to modest dance hit Step Up, but it's obvious being involved in all those romantic comedies rubbed off on Fletcher, as she handles 27 Dresses with ease. Directing fluff movies of this kind has got be fairly easy, technically speaking, but Fletcher isn't quite experienced enough to bring out the best in her actors, which is what makes or breaks a good romantic comedy. That and the script, of course--which, unfortunately for 27 Dresses, is a rather pedestrian effort from The Devil Wears Prada screenwriter Aline Brosh McKenna. The film's highlight is definitely when Jane models all 27 bridesmaid dresses, but other than that, it's all pretty formulaic.

Bottom Line

Hollywood.com rated this film 2 1/2 stars.