Review Date: August 24th, 2007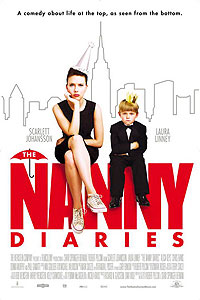 Is good help really hard to find? According to The Nanny Diaries--a cutesy albeit entertaining look at high society childcare--it's not the nannies but the rich Manhattanite parents who are the problem.

Story

Based on the bestseller by co-writers Emma McLaughlin and Nicola Kraus, The Nanny Diaries paints a pretty dim picture of the wealthy Upper East Side folk who are too busy with their professional and/or social lives to raise the children they think they needed to have. As seen through the idealistic Annie Braddock (Scarlett Johansson), a 21-year-old New York University grad who has dreams of being an anthropologist, being a nanny to a rich kid isn't all that it's cracked up to be. Annie takes the job of looking after the precocious 6-year-old son of a super-wealthy couple she calls "The X's" as a way to clear her head before moving on with her life. In fact, as she finds herself immersed in this elite and ritualistic culture, she considers it a field study, much like living in an Amazonian tribe. But Annie quickly learns that life is not very rosy on the other side of the tax bracket, as she must cater to the every whim of Mrs. X (Laura Linney) and attempt to avoid the formidable Mr. X (Paul Giamatti)—and try to comfort a lonely little boy who just wants to be loved by his parents. With that, Annie breaks the cardinal rule in the science of humans and their works: She goes native.

Acting

Just as The Devil Wears Prada had Meryl Streep to raise it above its frivolity, The Nanny Diaries has Laura Linney. Her Mrs. X is a brilliant case study in duality: On the one hand, Mrs. X is carefully manicured, an uptight high society dame planning fund raisers, attending "Nanny Cam" seminars and ignoring her little boy; on the flipside, she is just as lonely and wanting of love as her son. Linney's vulnerable moments are the most heartbreaking, especially when she sits through Annie's chastisement about her parenting skills on a nanny-cam tape, in front of a group of her high society friends. This performance probably won't give Linney an Oscar nod, but someday the actress should win that damn thing. Giamatti--as the distant, hands-off husband--makes his presence known, but it's pretty much a blink-and-you'll-miss-it performance. As for our leading lady, Johansson fares well among the upper classes as the kindly Annie but doesn't really do anything above and beyond the call of duty. And for the ladies, there's Chris Evans (Fantastic Four), as Annie's would-be suitor, whom she dubs "Havard Hottie." Hottie, indeed.

Direction

Actually, the comparisons between The Nanny Diaries and The Devil Wears Prada are numerous: Both are adaptations from bestsellers written by women; both skew Manhattan's highfalutin upper class with a Sex and the City sensibility; and both incorporate idealistic female college grads who face tough women and get caught up but somehow manage to ground themselves eventually. The difference this time is that Diaries is co-written and directed by Shari Springer Berman and Robert Pulcini, the same wife-and-husband team who gave us 2003's American Splendor, the ultra-quirky but innately mesmerizing biopic of comic book creator Harvey Pekar. Talk about a change of pace. Maybe Berman and Pulcini were feeling romantic when they picked Diaries as their follow-up. The couple doesn't use as much cinematic flair as they did with American Splendor, but there is a certain charm to Diaries' anthropological look and feel, especially as Annie analyzes Manhattan's denizens in their natural habitats. Still, there's some oomph lacking. As a Prada wannabe, Diaries doesn't quite make the cut.

Bottom Line

Hollywood.com rated this film 2 1/2 stars.