Review Date: September 7th, 2007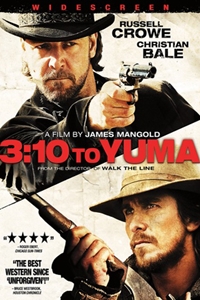 There's no true grit to be found in James Mangold's fun but safe Western remake. Nitpicking, however, is no way to treat a movie that gives us two heavyweights like Russell Crowe and Christian Bale on top of their games.

Story

When infamous outlaw Ben Wade (Russell Crowe) gets captured in late 19th century Arizona, the plan is to transport him to a train en route to Yuma prison(leaving at 3:10, of course). But in the 1800s, bringing someone to justice is as arduous as it sounds, especially since horses are the only mode of transportation and their carriages the only place to house a prisoner. Across "town," rancher Dan Evans (Christian Bale) is struggling mightily to support his wife (Gretchen Mol) and kids (Logan Lerman and Benjamin Petry) following a drought and needs to build a well for his family. So when he receives a nominal financial offer to help transport the notorious felon, he jumps at it, dutifully and desperately. While on the trail that leads to the train station, no amount of physical or verbal threat is too much for Wade to break free of with ease. But when it comes to the law-abiding rancher, for whom Wade has a certain respect, his escape becomes much more complicated than getting out of handcuffs.

Acting

3:10 to Yuma's pairing of Batman and Cinderella Man is perfect in concept and execution, and watching the two stars is more than a sight to behold—it is transfixing, like watching any two longtime professionals make something difficult look easy. It's the first of two such powerhouse pairings for Crowe this fall—he co-stars with Denzel Washington in November's American Gangster—and if this small sample size is any indication, big-name costars bring out the best in him. Crowe evokes the kind of real, humanistic villain that could only exist in a Western, and by playing Wade with equal parts amiability and evil, the Oscar winner turns in what is probably his most purely charismatic performance to date. Bale's character, on the other hand—and per usual—is loath to crack a smile, a quality the actor has mastered. The Yoda of dialect, Welsh-born Bale also has no difficulty switching over to Ol' West speak, but it's the way he conveys the rancher's stoicism and will that makes him even more credible. Among the supporting turns, Ben Foster (Alpha Dog) stands out as a cranked-up, trigger-happy member of Wade's gang, and stalwart Peter Fonda is perfectly cast as a tough 'n' gruff bounty hunter.

Direction

When director James Mangold turned Johnny Cash's life story into Walk the Line, it was the romantic version of a much darker tale. For 3:10 to Yuma, a remake of the beloved 1957 Glenn Ford-starrer, Mangold gives the Western the same treatment. In attempting to reel in today's action-happy audience, Mangold waters down the drama and speeds up the pace. Minor tweaks for this modern update equal a bit of a departure from true Western style, with the dialogue, for example, as snappy as one of today's action comedies. But it's all in good fun. The Old West looks completely authentic and the unforgettable ending is perhaps made possible by the director's innocuous first two acts. Even so, his efforts and those of the screenwriters (Derek Haas, Michael Brandt and Halstead Wells, who wrote the original) aren't enough to perform CPR on the Western—not that it's fair to rest the fate of entire dying genre in their hands.

Bottom Line

Hollywood.com rated this film 3 stars.