Review Date: August 24th, 2007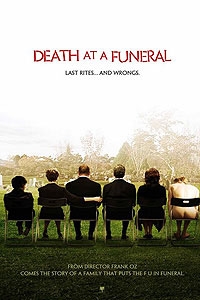 Unfortunately, you're likely to find more laughs at a real funeral than in Death at a Funeral, Frank Oz's deathly dull homage to the character-driven farces made by Britain's beloved Ealing Studios.

Story

Death is supposed to bring a family closer together. But the passing of Daniel and Robert's father is nothing more than an excuse for these two distinctly different brothers to renew their sibling rivalry. The painfully tedious Daniel (Matthew Macfadyen) is plagued with doubts about his ability to write a fitting eulogy to his father. It doesn't help that everyone wonders aloud within earshot why his younger brother Robert (Rupert Graves)—a critically acclaimed novelist and renowned ladies man now living in New York—is penning the eulogy. Daniel's also concerned whether Robert, whom he assumes has dollars coming out of his ears, will renege on his promise to split the cost of funeral. Daniel needs the money for a down payment on a new house; Robert can't spare the cash because his living beyond his means has finally caught up with him. Then there's their mother Sandra (Jane Asher), who takes Daniel for granted while lavishing all of her affections on Robert. And while Robert immediately becomes the center of attention, Daniel finds himself dealing with a situation that distracts him from the task of writing his father's eulogy. His father had a secret double life, which a mysterious funeral crasher (Peter Dinklage) threatens to expose if he's not paid handsomely to keep quiet. And this blackmail attempt quickly leads to the apparent death at the funeral. Too bad director Frank Oz finds himself distracted tying up many other loose ends—including one woman's efforts to watch over her drip of a fiancé, who inadvertently ingested LSD, while fending off the advances of her oily ex-boyfriend—to fully exploit the comic potential of Dinklage's extortion plan.

Acting

Guess dealing with so many big names—and even bigger egos—on The Stepford Wives took its toll on Frank Oz. How else to explain Death at a Funeral's relatively star-free ensemble cast? Unfortunately, Oz makes a huge blunder by placing the funeral arrangements on the broad shoulders of Pride & Prejudice's Matthew Macfadyen. After trying in vain to make us forget Colin Firth' Mr. Darcy, Macfadyen treats Death at a Funeral as though it's based on another Jane Austen literary classic. Yes, Daniel's as stiff as his father's corpse, but the terribly serious Macfadyen does nothing to make him likeable or amusing. Rupert Graves is somewhat charismatic as the prodigal son, but he leaves with you the impression that his handsome rogue was written with Hugh Grant in mind. Peter Dinklage once again cashes in on The Station Agent with a performance hammier than the one he gives in Underdog. He's a good actor, but he obviously needs a director who can rein him in. Serenity's Alan Tudyk—sporting a passable English accent—also shows no restraint. But thank heavens for that. His over-the-top theatrics—which includes prancing around on a roof dressed in just his birthday suit—generates most of the few laughs to be found in Death at a Funeral. The others come from veteran British actor Peter Vaughn, who's delightfully cranky as Daniel and Robert's foulmouthed uncle. The ladies—especially Macfadyen's real-life wife Keeley Hawes—are required do nothing more than stand by their men. Or, in Daisy Donovan's case, stand in front of a butt-naked Tudyk.

Direction

Are Frank Oz's best years behind him? Death at a Funeral and The Stepford Wives suggest the possibility. At least The Stepford Wives had some pep to it, but Funeral is utterly lifeless. One of the problems is Dean Craig's unfocused script, which incorporates an overwhelming number of eccentric characters, who find themselves in one predicament after another. But you can still detect a wicked streak in Craig's script. Too bad it's blunted by Frank Oz's surprisingly reserved and gloomy approach to the proceedings at hand. The action is almost completely confined to one home, ensuring that Funeral feels about as stagy as one of those groan-inducing British farces by West End playwright Ray Cooney. Funeral needs a director who understands and appreciates the absurdity of the situation and possesses the ability to keep his actors on a tight leash, rather than letting them spin completely out of control. Once upon a time, Frank Oz was such a director. But now Frank Oz doesn't seem to know what he wants. Worse, things never get as deliciously nasty as they could be--and that's the kiss of death for a comedy that aspires to be blacker than the attire worn by the bereaved. Let's hope the Muppet man-turned-director has another Bowfinger or Dirty Rotten Scoundrels left in him.

Bottom Line

Hollywood.com rated this film 1 star.