Review Date: August 13th, 2007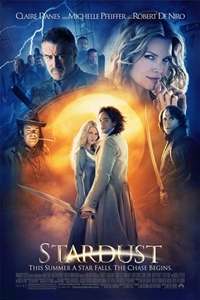 Stardust is so witty, enchanting and romantic, it's destined to become The Princess Bride of the Harry Potter generation.

Story

Finally, a brilliantly told fractured fairy tale for children and adults alike that does not feature a grouchy green orge anywhere. Once upon a time a young man sneaks into the mysterious magic kingdom of Stormhold that's walled off from his quiet English village. He soon meets a lovely young lady who just so happens to be a princess enslaved by a not-so-wicked witch. Nine months later, a basket is dropped on his doorstep. Yes, this baby boy is the unexpected result of his one-night liasion with the royal lass. The boy grows up blissfully unaware of his regal roots, so when he reaches manhood, Tristan (Charlie Cox) doesn't understand why he so drawn to the land on the other side of the Wall. He finally hops over the Wall when a star falls out of the sky and lands deep in the heart of Stormhold. His goal: to bring back the star as proof of his love for Victoria (Sienna Miller). Too bad this scheming temptress doesn't think too much of the penniless and mild-mannered workingclass stiff. This being a fairy tale, the star isn't just a star. The star's actually a beautiful celestial being named Yvaine (Claire Danes). And she fell to earth as part of a devious plan by Stormhold's dying king (Peter O'Toole) to determine his successor. But the king's scheming sons (Jason Flemying and Mark Strong) are not the only ones seeking Yvaine. The oh-so-wicked witch Lamia (Michelle Pfeiffer) needs Yvaine to help her restore her youth. So that means Tristan must become the hero he's destined to become—and take on witches, princes, airbourne pirates (Robert De Niro's Capt. Shakespeare) and shady black marketeers (The Office's Ricky Gervais)—so he can return home to Victoria. But Cupid has other plans for Tristran, and it's not hard to guess what those are.

Acting

If all stars took on the human form of Claire Danes, many more of us would probably pursue a career in astronomy. But it doesn't take a working knowledge of the Hubble telescope to see how relaxed and luminous Danes is when she's not carrying the weight of the world on her shoulders. And sparks definitely fly between Danes and Charlie Cox, even when they're at hurling hilarious insults at each other. Newcomer Cox makes a smooth transition from ill-at-ease lovesick puppy to swashbuckling hero. He also doesn't seem to be intimidated at the prospect of staring down Robert De Niro. There's always concern whenever De Niro takes on a comedic role for a big paycheck. He usually gets by with pure talent and nothing more. And when De Niro's pirate crosses paths with Cox and Danes, you immediately fear that he's going to offer yet another variation on his tough, gruff Alpha males from Analyze This and Meet the Parents. But he blindsides us by instead going all Jack Sparrow on us—that is, if the old sea dog had no interest in the ladies—to deliriously campy effect. What with Hairspray and now Stardust, Michelle Pfeiffer's comeback seems to be predicated on getting in touch with her inner bitch. She's splendidly nasty and scary as Lamia. And the uglier and older she gets, the meaner and funnier she gets. Equally cruel—though more cheerfully so—is Sienna Miller. Providing small but amusing cameos are Gervais, once again revealing an unparallel mastery of toadying, and Peter O'Toole who kicks the bucket quicker than John Cleese's King Harold does in Shrek the Third.

Direction

There's legitimate reason to question whether Layer Cake director Matthew Vaughn has what it takes to direct a big-budget, effects-driven summer blockbuster. Remember, after making his name producing or directing relatively inexpensive British crime capers, Vaughn walked away from X-Men: The Last Stand. Judging by Stardust, though, Vaughn would have done a masterful job leading those misunderstood mutants into battle. Then again, he couldn't have done worse than Brett Ratner. Based on the graphic novel by Neil Gaiman and Charles Vess, Stardust possesses both a big heart and an uncommon adventurous streak. Unlike the recent Pirates of the Caribbean: At World's End, which was too long and too cumbersome for its own good, Stardust moves nimbly and confidently through a strange and wonderful land populated with noble heroes to cheer for, fiendish villains to boo at, and gorgeous damsels in distress to sigh over. Vaughn keeps us on the edge of our seats whenever Tristan must think or fight his way out of danger. But he invests as much time in making believe that Tristan and Yvaine are made for each other. He also strikes a fine balance between honoring the sword-and-sorcery genre while playfully sending up its many cliches. The humor's a lot more risqué than the bedtime story that was The Princess Bride, but most of the sexual innuendoes will zoom over the heads of those still too young to pick up on many of Shrek's pop-cultural references. Clearly, Stardust cannot escape all other comparisons to The Princess Bride, but Stardust boasts more than enough magic and daring-do to win over those who remained enthralled to this day by Cary Elwes' brave efforts to rescue a kidnapped Robin Wright Penn. So this is one fairy tale that richly deserves its happily ever after-and, for that matter, so does Vaughn.