Review Date: February 16th, 2007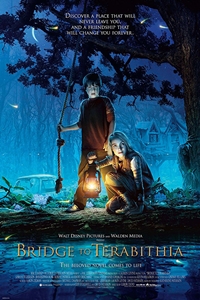 Imaginative, touching and keenly attuned to the coming-of-age genre, Bridge to Terabithia is a welcomed breath of fresh air in the stale family movie arena.

Story

Don't let the previews fool you—Terabithia isn't anything like Chronicles of Narnia. Based on the Newbery-Award winning children's novel by Katharine Paterson, the story is more about childhood friendships and the way imagination can, quite literally, open new worlds. Jess Aarons (Josh Hutcherson) sees himself as an outsider at school—and at home. He really only feels himself when he's drawing. Then he meets the new kid, Leslie Burke (AnnaSophia Robb), who has just moved from the big city. Despite their differences—she's rich, he's poor—they become fast friends. Leslie, who likes to spin magical stories, opens Jess' eyes to the possibilities and together they create the secret kingdom of Terabithia, a mystical place accessible by swinging on an old rope over a stream in the woods near their homes. Interacting with the Terabithian denizens they've imagined, both evil and good, Jess and Leslie learn to deal with the pressures of their young pre-adolescent lives—and learn what the power of real friendship truly means.

Acting

The young, fresh cast really make Bridge to Terabithia work. Robb and Hutcherson are already veteran kid actors: Robb is best known for stealing hearts in Because of Winn-Dixie (another kid novel adaptation) and popping chewing gum as Violet in Charlie and the Chocolate Factory, while Hutcherson played the tough older brother in Zathura as well as Robin Williams' kid in R.V. Their acting experience clearly shows as they make the friendship between Jess and Leslie both genuine and heartfelt. There isn't a false moment in their performances, especially from Hutcherson, who at first sends off an I-could-care-less vibe but, through his soulful eyes, becomes more attached to Leslie and their secret place. And as Jess' little sister, 7 year-old Bailee Madison plays the moppet without any cutesy affectations. As far as the adults are concerned, stand outs include Robert Patrick as Jess' stern dad, just trying to make ends meet for his family, and Zooey Deschanel, as the kids' music teacher who Jess has a crush on.

Direction

In 1978, author Katharine Paterson wrote Bridge to Terabithia for her then 11 year-old son, David Paterson, about a special friendship he had. It was an instant hit. Now, David, all grown up, is able to bring his mom's touching story to life as one of the writers. Talk about a family effort, backed by Walden Media--the geniuses behind Holes and Chronicles of Narnia. Directed by Rugrats creator Gabor Csupo, Terabithia truly captures the essence of childhood imagination even, I dare say, more so than Narnia. Maybe it's because the idea of Terabithia comes from the minds' of very real children, who are going through very real emotions as they enter into adolescence. Csupo keeps the imagery simple, allowing audiences to create a fantasy world, filled with mythical creatures, right along with the film's main characters. And if you haven't read the book, you might be surprised by the story's poignancy. In a saturated field of animated duds and kid films better suited as after-school TV specials, Bridge to Terabithia stands out as a one of the better family movies to come around in a long time.

Bottom Line

Hollywood.com rated this film 3 1/2 stars.