Review Date: November 24th, 2006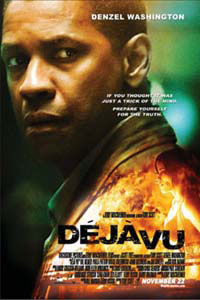 What a title for a Denzel Washington flick, as this role seems a lot like all of his recent ones, even if it's not. He tries to add a twisty sci-fi/romance/action thriller to his recent string of immediately forgettable vehicles and succeeds in that department, if nothing else.

Story

ATF Agent Doug Carlin (Denzel Washington) has had many a hard day at the office, but never anything like the one that awaits him. On a sunny, pleasant morning in post-Katrina New Orleans, a ferry explosion kills hundreds of people. After Carlin goes fishing for clues, he comes across a beautiful young woman, Claire (Paula Patton), believed to be a victim of the bomb blast. But to Carlin, her lifeless body bears telltale signs of foul play beyond the ferry incident, and he believes retracing her final days will solve her case and find the bomber. The FBI does Carlin one better with an unprecedented technology that actually allows them to watch Claire's life as it unfolded just prior to the string of events. There's one catch, however, for Carlin, FBI Agent Pryzwarra (Val Kilmer) and uber-techie Denny (Adam Goldberg): The footage, which cannot be paused or rewound, is limited to a timeframe of four-and-a-half days ago. When Carlin tries to manipulate the video by going back four-and-a-half days and thwarting the suspected terrorist's (Jim Caviezel) plans, he literally walks right into his own déjà vu.

Acting

In Deja Vu, Denzel gives his usual flawless performance, and yet, just the same, there's something still to be desired. Whether in scope, character or box-office influence, his roles lately are so similar that they themselves could be the culprit behind a case of the ol' déjà vu. Problem is, his aforementioned flawlessness is by now so (seemingly) effortless that a trip back to Training Day territory, or something in which he bears his teeth and grit--something he's obviously capable of doing--would be a welcome change. Patton, on the other hand, is headed down the right path. Fresh off her eye-opening breakout turn in Idlewild, she is not only extremely easy on the eyes, she can act and is often forced to do so by herself as someone who doesn't know she's being watched, which is presumably no easy assignment for an actor. Goldberg has always been good but unfortunately has also always seemed destined for supporting roles like this, and Jesus Christ himself, Caviezel (The Passion of the Christ), is more than sufficiently creepy in his role. As for Kilmer, whose screen time dwindles with each role, you basically forget he's there.

Direction

Deja Vu has the kind of pedigree studios can't buy--that is, unless they're willing to fork over several million for behind-the-camera talent. Rookie screenwriter Bill Marsilii teams up with Terry Rossio, writer of the Pirates of the Caribbean movies and Shrek, to name just a few blockbusters that will put all of his future generations through college. Then they join director Tony Scott, of Top Gun, Crimson Tide, Enemy of the State and Man on Fire fame. Finally, producer Jerry Bruckheimer is also in the mix, and everything he touches turns to platinum. They all mesh well--if mediocrity is what they were trying for. The writers turn Deja Vu into a sci-fi film way too far in and the better part of the movie is merely footage of Claire's final days. Even worse is Bruckheimer's trademark overproduction. Scott's stamp of high tension is present, but there's too much going on, most of it uninteresting or overwhelming, to really appreciate it. Either way, sci-fi is simply not the director's strong suit. And as the film's end nears, the whole group collectively sends it spiraling out of control, its futility hiding behind crowd-confusing and -pleasing twists.

Bottom Line

Hollywood.com rated this film 2 stars.