Review Date: October 13th, 2006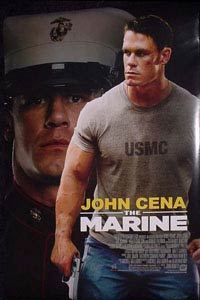 The Marine makes The Rock look like [insert your choice for the best actor of all time]. Even if you're not seeing this flick for the acting, you'll still be disappointed. Either way, let's try to keep the acting inside the ring, fellas!

Story

The Marine opens up with the Marine, John Triton (John Cena), rescuing his comrades held hostage in Iraq--commando style! And what does his heroism get him? A discharge. Back home, John tries to adjust to non-Marine life, but it isn't easy. Helping to reintroduce him to the pleasures of domesticated life is his wife, Kate (Kelly Carlson), but John's passion for action cannot be tamed. After just one day at home, John gets a job as a Rent-A-Cop security guard. And after just one day on the job, John gets axed for karate-chopping some good-for-nothing dude. At the behest of his wife, the two do what any fiscally shrewd couple does after being laid off from work--they go on a romantic getaway. While at a gas station, they bump into--by sheer coincidence, of course--a guy who's been living on the other side of the law: Rome (Robert Patrick). Rome and his crew have just pulled off a massive diamond heist and are en route to collecting the money for their troubles, when they kill a cop, lose a tire and drive off in John's car with Kate in the front seat. Now John's got a motive to unleash his inner Marine, and he will...Stop. At. Nothing.

Acting

Dammit, The Rock--er, Dwayne 'The Rock' Johnson--look what you've done: Your mediocre acting skills have begotten a whole generation of pro wrestlers who are trying to cross over. And even though there's a lot of artifice going on inside the ring, it's just not the same kind. Enter Cena, a superstar in the WWE and the latest Rock-ette. He may look like two movie stars--Matt Damon (on massive steroids) and the Hulk (in Technicolor)--but, well, you know what to expect in the acting department. Luckily, he's more of a stuntman in the movie than an emotion-channeler. At the opposite end of the spectrum is Patrick, who recently did great work in Walk the Line and not so recently in T2. He's the embodiment of that age-old saying: "What a shame to see him doing this.'' Finally, there's Carlson (Nip/Tuck). She's gorgeous, but if she's looking to escape the mere contentment of TV for potential movie superstardom, she might want to alter her role choices--even if it's a tiny role in a GOOD movie.

Direction

What kind of a director would accept a movie in which the star is a pro wrestler making his motion-picture debut? A like-minded rookie director, John Bonito, who's just trying to get his feet wet in the realm of film, and who has in the past had involvement with the WWE and the ECW--some sort of other wrestling league (apparently there's more than one?), that's who. Bonito actually makes the most of a premise and financial venture doomed from the start, but, hey, even a movie like The Transporter--seemingly Bonito's all-time fave--takes acting. And a script made for a male lead who can actually act. Cena is no Jason Statham, obviously, and Bonito is far from a Luc Besson type, so The Marine winds up a bad made-for-Action-PPV (don't pretend to not remember that channel!) movie. Bonito does, however, show great ability in highlighting his star's muscles--though they seem like they could explode at any moment, spewing hot protein powder and maybe other things. I said 'maybe'!

Bottom Line

Hollywood.com rated this film 1 star.