Review Date: October 23rd, 2008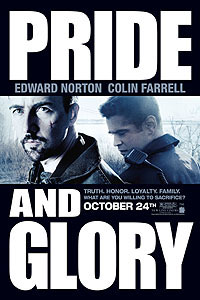 As a gritty and intense movie about a police family caught up in a NYPD corruption scandal, it finds real Pride and Glory in its superb cast.

Story

Merging Serpico with an almost Shakespearean sense of tragedy, Pride and Glory details an extremely complicated investigation into the gunning down of four New York City cops after an attempted drug bust goes terribly wrong. With increasingly bad PR and an apparent cop killer still at large, the Chief of Manhattan Detectives Francis Tierney Sr. (Jon Voight) assigns his son Detective Ray Tierney (Edward Norton) to lead the probe. The younger Tierney is reluctant since he knows all four cops served under his brother Francis Jr. (Noah Emmerich) and brother-in-law Jimmy Egan (Colin Farrell). Ray's instincts may be right because as he digs deeper he discovers an awkward and uncomfortable connection between Francis, Jimmy and the case. Could his own family have been involved in an inside job and tipped off the drug dealers? Soon, Ray finds himself having to choose between the greatest moral dilemma of all: loyalty to the job or loyalty to his family.

Acting

Although Pride and Glory doesn't break any new ground and is composed of elements we've seen in many previous films dealing with police corruption, this film is distinguished by some of the finest work in the storied careers of many of its cast. Norton follows up his summer comic-book movie The Incredible Hulk with a far smaller and more focused character in P&G, playing a man caught in a moral bind facing the unthinkable prospect of going after his own family members. Norton wears his ticklish predicament on his face and is enormously effective conveying pure angst. Emmerich (Little Children) delivers a rich portrayal of a tortured soul, not only caught up in an intense investigation, but dealing with a wife (Jennifer Ehle) dying of cancer. Farrell is better than he has been in some time, playing a shady officer who seemingly will stop at nothing to get what he needs. Voight, as the proud family patriarch and veteran of the NYPD, clearly understands the dilemma of this man who is watching his family torn apart.

Direction

Co-writer/director Gavin O'Connor has spent a frustrating couple of years trying to bring this story to the screen, but his perseverance pays off. Pride and Glory is a well-written cop tale that co-exists as an interesting character study about the power of family ties vs. personal pride. O'Connor manages to put us right in the center of the moral conflict at the heart of his story and with several first-rate actors (even in the lesser roles) crafts a film that seems authentic to its core. Incorporating Declan Quinn's in-your-face, realistic cinematography, O'Connor resists going for a more obvious audience-pleasing flashier style, achieving a look and feel that seems more grounded in the milieu he's trying to capture. His script, co-written with Joe Carnahan (who wrote and directed the equally gritty Narc) is tight and unsympathetic, slowly letting layers of a very intricate and complex story peel away to reveal a core that packs a punch right to the gut.

Bottom Line

Hollywood.com rated this film 3 stars.