Review Date: January 12th, 2007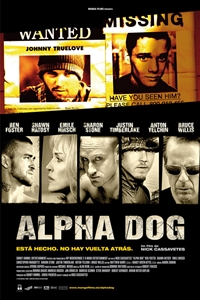 Justin Timberlake simultaneously steals and sabotages Alpha Dog. His breakout performance is shockingly good, but his involvement seems to have corrupted director Nick Cassavetes.

Story

Alpha Dog has been in the headlines quite a bit ever since last year's Sundance Film Festival, and not coincidentally, the headlines actually spawned Alpha Dog. The true story concerns a drug dealer named Jesse James Hollywood who would become one of the youngest people ever on the FBI's most-wanted list; Alpha Dog, for the most part and rather glossily, tells the rest of the story. Johnny Truelove (Emile Hirsch)—the Jesse James Hollywood character—is a hothead drug dealer well respected in his suburbanite posse, which includes sycophant Elvis (Shawn Hatosy) and burnout Frankie (Justin Timberlake). After speed freak Jake Marzursky (Ben Foster) shorts him in a pot deal and vandalizes his house, Johnny exacts revenge by kidnapping Jake's young brother Zack (Anton Yelchin). To Zack, the kidnapping is a blessing, an intro to the party lifestyle he's always wondered about, and Johnny and co. aren't sweating what they think is a scare tactic. But when they learn they're looking at (long) hard time for the kidnapping, the guys realize that simply returning Zack to his house might not be an option.

Acting

Even though the only real difference between Timberlake and his Frankie may lie in the number of tattoos, his (for all intents and purposes) debut performance is a genuine eye-opener and further proof that when you've got "it," the medium just doesn't matter. Throughout much of the movie, Timberlake's best work is simply making you forget he's the world's biggest pop star, but he shines most during the movie's dramatic climax. Yelchin (TV's Huff) also excels. He's blessed—or perhaps, in Hollywood, cursed—with a face that will probably always look younger than it is, and that, along with his accompanying expressions, makes you feel a number of things for his character. Rising star Hirsch (Lords of Dogtown) plays Truelove—in real life the central figure—with equal parts cool and A.J. Soprano hissy fits, while Foster (Hostage) is his archenemy and antithesis, simmering or exploding in every scene. Audiences will laugh at Foster's over-the-top turn, but it suits the absurdity of his character. Bruce Willis and Sharon Stone, as parents thrown into the ordeal, don't add much beyond their names, but Stone's botched fat suit in one scene kills an otherwise raw moment.

Direction

Writer/director Nick Cassavetes turned The Notebook into a surprise box office hit (with a little help from Rachel McAdams and Ryan Gosling, of course), and unfortunately that's what he tries for with Alpha Dog. It's a movie that should be more along the lines of Larry Clark's uncompromising Bully instead of a cross between that film and, say, Malibu's Most Wanted. Furthermore, it seems the Timberlake Effect swayed the director into MTV territory, as he apparently tries to reel in some of the pop star's contingency when this is certainly no kids' tale, even though it's about kids. But despite the movie's often ambiguous tone and frequent testosterone injections, Cassavetes manages to engage us and take us along for the roller coaster ride. He captures with great accuracy the reckless abandon and invincibility complex with which these specific people operate (and party)—it's pure hedonism for them and the audience. Until he sets reality into place, at which point it inches closer to the aforementioned Bully.

Bottom Line

Hollywood.com rated this film 2 1/2 stars.