Review Date: May 11th, 2007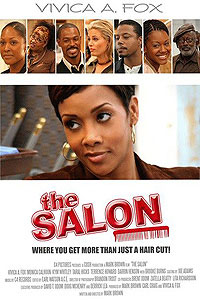 The whole raison d'etre for The Salon doesn't work. This is a hair don't.

Story

Boy, just when you thought they'd milked the hair salon genre to the bone (to mix metaphors), here comes another one. Jenny (Vivica A. Fox) has to save her family business from government plans to replace it with a parking lot. While fighting the power, her employees converse with clients about controversial topics like interracial dating, gay rights and Halle Berry's Oscar. Jenny romances a city lawyer and disciplines her son for fighting in school. Is any of this sounding way too familiar? Although the formula isn't all that compelling to begin with, films such as Barbershop and Beauty Shop worked because of the talent and the poignancy. Unfortunately, The Salon is just reaching.

Acting

All the performances are caricatures. There's the flaming gay man who's just fighting for acceptance by rubbing it in everyone's face. There's the militant black power chick who thinks the louder she screams, the more right she is. There's the player who sleeps with all his clients but has so little personality it's inconceivable. Fox tries to play the even, grounded character, a responsible shopkeeper and mom, but isn't convincing doing either role. Talking about her family history in the shop is just the same old lines with no heart--and the mommy stuff, ''Look how sassy I am! I'm smack talking my badly behaved son!,'' is embarrassing. Fox is much better than this.

Direction

What happened to the guy who made Two Can Play That Game? With that film, director Mark Brown turned in a very even-handed romantic comedy with complex characters. But with The Salon , he's totally slumming it, pandering to the low budget. You'd think the fact Brown wrote and produced Barbershop would give him a leg up on the material but, alas, it isn't so. There's no real director's stamp on it. Highlighting such blatant stereotypes is just lazy, while regurgitating a tired formula with no new perspective is sloppy. The Salon 's only hope is that people will mistake it for the Queen Latifah movie at the video store.

Bottom Line

Hollywood.com rated this film 1/2 star.