Review Date: December 16th, 2005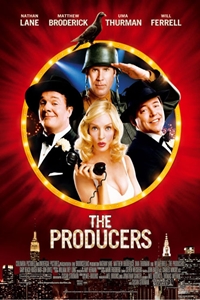 Sure, The Producers, a movie-turned-hit Broadway musical-turned-movie again is pure camp, filled with over-blown musical numbers and over-inflated performances. But that's what we want in a movie musical--unadulterated fun.

Story

From his side-splitting 1968 original film, writer/director Mel Brooks created one of the funnier comedy duos. Max Bialystock (Nathan Lane) is a washed-up Broadway producer who has to shtup little old ladies in order to get investments for his shows. Leo Bloom (Matthew Broderick) is a hypersensitive, nerdy accountant, who gives Max a brilliant idea: producing a flop could procure more money than a hit. Max then suckers Leo into joining him in the perfect plan of embezzling money and skipping town with the cash after finding the most god-awful musical to produce. That would be "Springtime for Hitler" by former Nazi Franz Liebkind (Will Ferrell). They also hire talentless director Roger DeBris (Gary Beach) and employ a blonde Swedish bombshell named Ulla (Uma Thurman), just for the heck of it. But what they think is a sure-fire dud turns out to be a smash success instead. D'oh!

Acting

The Producers definitely has the advantage of using the original stars from the Broadway hit. Lane and Broderick are like a well-oiled comedy machine, having played Bialystock and Bloom off and on since the musical opened on stage in April 2001. Lane simply slays you. As does Beach, as the spirited DeBris, and the gut-bustingly hysterical Roger Bart, as DeBris' common-law assistant, Carmen Ghia. But there are some disadvantages as well. There is, at times, a fresh quality lacking in the performances, especially from Broderick, who looks he's on auto pilot. Thankfully, the two newcomers to the fray--Ferrell and Thurman--give The Producers that extra sparkle. Ferrell just pours it on as the crazy German, while the luminous Thurman, well, shakes and shimmies like she was born for the stage.

Direction

You realize, of course, Mel Brooks is really just a frustrated musical theater guy at heart. Getting the chance to turn his 1968 cult classic into a full-blown Broadway extravaganza must have been a dream come true. Even though he wrote all of the music and lyrics, including two original songs for the movie, he wisely hands over the directing reins to Tony Award-winning director/choreographer Susan Stroman. In her capable hands, The Producers goes from stage musical to big-screen spectacle with relative ease. It could have perhaps shed a few of the musical interludes, especially towards the end, for the sake of making it a tighter film, but all in all a truly worthy effort. I guess maybe the only problem is those of us nostalgic for the original film. It was just so exquisitely priceless in so many ways, seeing it turned into a campy musical somehow just doesn't do it justice.

Bottom Line

Hollywood.com rated this film 3 stars.