Review Date: November 28th, 2005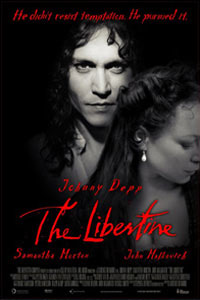 This murky-looking misfire about noted 17th century sensualist/poet John Wilmot is the anti-Merchant-Ivory. It could also quite possibly be the worst film Johnny Depp has ever made.

Story

Libertine is a grungy biopic but is itself devoid of any appeal to the senses and shortchanges us on anything truly decadent other than John Wilmot's binge drinking. Wilmot (Johnny Depp), the Earl of Rochester, was a favorite of King Charles II (John Malkovich), and better known for his debauched excesses than for his poetry, at least during his lifetime. He ignores his wife (Rosamund Pike), who--as we are told but sadly not shown--he abducted and would have been executed for, had she not interceded on his behalf. He finds a new love in a little-known actress, Elizabeth Barry (Samantha Morton), whom he takes under his wing and coaches to be the greatest actress on the London stage. They begin a romance but once she is the toast of London, she is done with him. Given a commission from the King to write a play to smooth relations with the French, he delivers a scatological farce that mocks the King himself and is subsequently banned. Suffering from syphilis and the many ill-effects of alcohol abuse, his once-handsome features are distorted in disease. But he manages to rise from his deathbed to come to his King's aid one more time.

Acting

You can't blame Depp for being attracted to this part, as he gets to transform into the disease-riddled stages of the Earl's later years. He rants and rails and tosses insults left and right, but we never really see what other people find attractive in this man, other than his sheer outrageousness. He has all the urchin grime of Pirates of the Caribbean's Captain Jack Sparrow, minus the mischievous charm. As his beautiful, well-heeled wife, Rosamund Pike wavers between suffering and scorn. Samantha Morton plays Elizabeth Barry with more petulance than divaesque. John Malkovich is surprisingly gracious as King Charles, the indulgent monarch who keeps banishing Rochester, only to summon him back.

Direction

The Libertine opens with a dimly lit monologue from the Earl, in which he boasts, "I am up for it, all the time." Wilmot's liaisons with men are merely hinted at, and the love scenes are disappointingly tame. For a film about sensuality and decadence, first-time director John Dunmore has completely missed the mark. The press notes proudly boast that cinematographer Alexander Melman purposely strove for a dirty, de-glamorized look for the film, but the film stock is so grainy that it appears to be 16mm blown up to 35mm. In other words, nothing at all pleasing to the eye, or to the ear, as the obvious score by Michael Nyman is heavy-handed and intrusive. Dunmore has accomplished the impossible, which is to render Depp, even before his character's decline, completely unattractive, with harsh lighting and a series of bad wigs.

Bottom Line

Hollywood.com rated this film 1 star.