Review Date: March 18th, 2005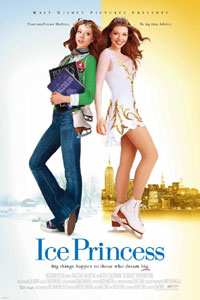 Similar to The Princess Diaries, Raise Your Voice and others of its ilk, Ice Princess is yet another modern-day fairy tale about a science nerd who turns into a figure skater. All this heartwarming, feel-good fare is starting to make me feel a little sick.

Story

Casey Carlyle (Michelle Trachtenberg) is a high school geek, whip-smart at physics but inept at social graces. Nevertheless, Casey's single and very determined mom (Joan Cusack) is happy with her performance, especially as Casey is on the fast track to Harvard. But when an opportunity arises to do a physics report for a scholarship, the teenager finds a chance to combine the two loves of her life: science and ice skating. Yep, that's right. While studying the theory of relativity, Casey also dreams of being a champion figure skater, much to her mother's dismay. And to the girl's astonishment, her calculations and experiments actually turn her into a prodigy. Casey hits the ice running and is soon training with champion-in-the-making Gen Harwood (Hayden Panettiere) and her famously tough coach and mother, Tina (Kim Cattrall), getting a crash course in the glamour, sweat and tears of competitive skating. Casey's eyes are opened to a brand new world, and her life is completely changed. Well, of course it is.

Acting

Starting out as a child actress in Harriet the Spy and TV's Buffy The Vampire Slayer, Michelle Trachtenberg possesses that certain doe-eyed innocence, and a steely resolve, that makes us root for Casey and her dreams from the very start. But you can see how the 19-year-old Trachtenberg would be itching to break out of the teeny bopper roles, especially after recently showing off her chops in more racy fare as Eurotrip and HBO's Six Feet Under. Same goes for Panettiere, who has done her fair share of family films, including Racing Stripes. Time to move on, girls. Cusack and Cattrall are effective, playing two controlling mothers on the opposite end of the spectrum who actually have more in common than they think, especially in how they deal with their strong-willed daughters. The real finds in Ice Princess, however, are the real-life competitive skaters-turned-actresses. They include Kirsten Olsen as the little ''shrimp'' dynamo Nikki, and Juliana Cannarozzo as the punked-out Zoey, who are not only fun to watch as skaters but handle the acting chores with aplomb.

Direction

It's not that I'm against such uplifting, heartfelt Disney movies as Ice Princess and The Princess Diaries. Oh, let's not forget the Disney-esque Raise Your Voice. They send out positive messages and provide good fun for the younger set. But it is getting so very tiresome to sit through them one after another. They blend together without much originality and spunk. In the case of Ice Princess, the only true excitement comes from the actual figure skating. Under the guidance of British director Tim Fywell (I Capture the Castle), the girls look good on the ice. Both Panettiere and Trachtenberg had to train hard to get all those cool toe loops and salchows down--and it shows. It also didn't hurt that Olympians Michelle Kwan and Brian Boitano, who make cameo appearances, were on hand to lend a few pointers. But it's the same ''Mom, please let me be who I want to be!'' theme and sugarcoated wholesomeness that makes Ice Princess more gag-worthy than anything else.

Bottom Line

The Mouse House factory churns out more cute with Ice Princess, which may keep younger girls enthralled. The rest of us may have to go get our teeth checked for fear of getting cavities from all the syrupy sweetness.