Review Date: March 11th, 2005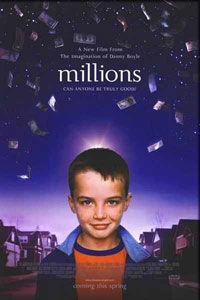 Just how much is money really worth? Danny Boyle's Millions tackles this weighty subject under the guise of children. While it brings to mind the heavenly hijinks of Angels in the Outfield and the solemn pathos of In America, Millions is an all-encompassing heart-warmer all its own.

Story

All of Britain is abuzz as ''E-Day'' approaches. The day when the pound will be converted into euros and the former will no longer be accepted as a valid form of currency. Enter two brothers: wide-eyed 7-year-old Damian (Alexander Nathan Etel) and his 9-year-old, fiscally precocious and shrewd brother Anthony (Lewis Owen McGibbon), who stumble upon a million pounds and are split on what to do with it in the short time they have. They are in agreement on one thing: They will not tell their father (James Nesbitt) about the money. Anthony just wants to spend it on material things, but Damian believes the money has been delivered to them by some sort of divine osmosis, a miracle from their recently deceased mother. Through the saints he claims he sees and talks to, he thinks it is should be given exclusively to the homeless--or anyone deemed worthy by meeting Damian's rigorous criteria…admitting they are poor. He is later crushed to discover that the money's true origin is a heist gone awry, as he crosses paths with the obligatory villain, posing as a homeless man and threatening Damian to hand over the money or else pay the consequences.

Acting

There's a kind of freedom in releasing an indie film in which the biggest name belongs to the guy behind the camera. Rather than worrying about watching mega movie stars, it shifts the audience's attention so they can get involved in a complex storyline. Millions is no exception to this rule. The acting is superb all the way around, but undoubtedly the two biggest stars of the film are also its smallest. The interplay between two brothers--played by Etel and McGibbon in their feature film debuts--makes the viewer feel like a fly on the wall in any family's home. For such young kids, they display an amazing skill at being able to capture the subtle nuances generally present in sibling relationships. Throw in the dynamic of their father--played well by Nesbitt, a veteran of the British-indie circuit--and his new girlfriend (Daisy Donovan), who threatens to disrupt the family harmony, and you feel like a genuine intruder on a family in crisis. But Damian's naive musings help keep the story essentially light, vibrant and flowing.

Direction

Millions marks a complete about-face for director Danny Boyle. With his previous films, he followed along a general path of the same moods and tones: his harrowing take on drugs and decadence in England in the groundbreaking Trainspotting; his hostage-falls-for-kidnapper caper, A Life Less Ordinary; his disappointing attempt at a mind trip with The Beach; and his zombie take-off 28 Days Later. It's safe to say that a feel-good family film would not seem the logical next step. But Boyle executes Millions brilliantly, showing not only his sensitive side, but his flair for the whimsical. Parts of the movie even suggest hints of Tim Burton, complete with sinister-sounding choral hymns in the background. With Millions, Boyle establishes himself as a force to be reckoned with, one of the most versatile directors around today.

Bottom Line

While neither flawless nor groundbreaking, Millions still provides a proverbial breath of fresh air, devoid of pretentiousness and egos vying for screen time--and should net director Danny Boyle some newfound fans.