Review Date: July 15th, 2005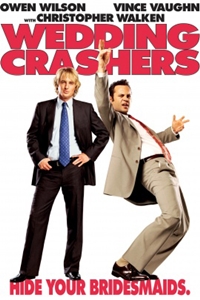 Honestly, I ask you, who better to bring to life two philandering guys--whose modus operandi is crashing nuptials in order to score with vulnerable bridesmaids--than Owen Wilson and Vince Vaughn? You'd be hard pressed to come up with anyone more perfect.

Story

Jeremy: ''Someday you'll look back on all this and laugh, and say we were young and stupid.'' John: ''We're not THAT young.'' And with these prophetic words, divorce mediators John Beckwith (Owen Wilson) and Jeremy Grey (Vince Vaughn)--lifelong friends whose hobby it is to crash weddings, get laid and never look back--embark on a journey of self-discovery. Well, maybe not a journey exactly, more like a weekend of debauchery. And maybe not self-discovery, per se, more a realization falling in love isn't such a bad thing. It all starts when the charismatic and charming duo crash the social event of the year, the wedding of Treasury Secretary William Cleary's (Christopher Walken) daughter. They stick to the Crashers Code, at first, setting their sights on two bridesmaids, Claire (Rachel McAdams) and Gloria (Isla Fisher) Cleary, creating clever back stories and becoming the hit of the lavish party. But while Jeremy is going about business as usual with the curiously randy Gloria, John is uncharacteristically falling hard and fast for the whip-smart and beautiful Claire. John eventually persuades a resistant Jeremy to bend the crashing rules and accept an invitation to an extended weekend party at the Cleary family compound. Uh oh. Once at the palatial waterfront estate, the dysfunctional members of the Cleary family put the guys through the wringer. It would be enough to send any confirmed bachelor running--except John really likes Claire and wants to make it work. And Jeremy, as he tells John, just wants to ''ice my balls and spit up blood.''

Acting

There must be some kind of osmosis thing that happens when the Frat Packers mix it up. Of course, I'm talking about the comedic talents of Vaughn, Wilson, his brother Luke Wilson, Ben Stiller and Will Ferrell, who just keep churning out one hilarious film--Old School, Dodgeball, Starsky & Hutch--after another, in various tag-team combinations. The Wedding Crashers is no exception. Although it's actually Vaughn and Wilson's first real screen time together (if you don't count Starsky & Hutch), you'd swear they've been working together for years, making them the best Frat Pack combo yet. Their diverse comedy styles--Vaughn's rapid-fire delivery, Wilson's slow burn--complement each other perfectly. Like Vaughn's character explains in Swingers, these guys are ''in the rated-R movie…the guy[s] you're not sure whether or not you like yet. You're not sure where [they] are coming from.'' Vaughn and Wilson also share the wealth with their supporting cast. The lovely McAdams (Mean Girls, The Notebook) continues to show her range as Claire, and she very sweetly holds her own amidst the calamity. Walken is also particularly entertaining as the elder Cleary, who's funny without ever trying to be. But the true scene stealer is Aussie actress Fisher (Scooby-Doo) as the youngest Cleary daughter, an obsessive ''Stage 5'' clinger and nymphomaniac. ''Don't ever leave me 'cause I'd find you!'' she giggles to Jeremy with a wild look in her eyes. Yikes. Fisher goes full tilt, playing the one woman who can truly give Jeremy a taste of his own medicine. Wild and wacky stuff.

Direction

Director David Dobkin likes to try his hand at different genres. He first worked with Vince Vaughn in the serious-minded serial killer flick Clay Pigeons, and then worked with Owen Wilson in the action-packed but lighthearted sequel Shanghai Knights. Now Dobkin has got the both of them in a balls-out comedy--and handles the chores with aplomb, even if all the director has to do is turn on the camera and point it at his stars. From the moment we see Jeremy and John crashing a variety of ethnic weddings (Jewish, Hindu, Chinese) to their escapades at the Cleary home, Wedding Crashers will simply split your sides and make you spit out your Coke. You're probably going to see it a few more times just so you can pick up stuff you might have missed while laughing so hard. The only problem is how to end it. Granted, we are dealing with, in essence, a romantic comedy, so you know there's got to be some sort of happy resolution. We'll accept that. But the film seems to lose some steam and turns predictable once the guys leave the Clearys. The last 10 minutes--save for a memorable cameo from a fellow Frat Packer (and I won't tell you who)--drag on a bit. Still, it doesn't completely take away from the good time you've been having.

Bottom Line

Sure, it has its flaws--sappy ending and all. But in the same vein as Animal House, the Frat Pack-filled Wedding Crashers is one of the funniest R-rated movies to come around in a long time.