Review Date: September 24th, 2004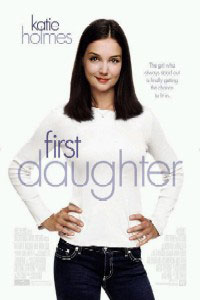 Sweet but unremarkable, First Daughter is never quite as cute as its star.

Story

Just like any other teenager, Samantha Mackenzie (Katie Holmes) desperately wants to blend in with the crowd and live a normal life. But when you're the daughter of the U.S. president (Michael Keaton)--especially a president who's up for re-election--normalcy isn't exactly in the cards. Sam hopes leaving the glamour and politics of Washington, D.C., behind her as she heads off for her freshman year at Redmond College in California (shades of Chelsea Clinton, anyone?) will finally provide the escape she's longed for--if only her constant Secret Service companions didn't make it so difficult. Sam's feisty roommate Mia (Amerie Rogers) encourages her to bend the rules and stand up for herself, but it isn't until she meets handsome upperclassman James (Marc Blucas) that Sam really comes into her own. Naturally, the course of true love ne'er did run smooth, so Sam has to work her way through some bumpy spots before the end credits roll. Sure, Sam's first experience with romance may be a bit more complicated than most, but it does the same thing for her as it does for the rest of us--it frees and changes her, helping her get to know the real person behind the campaign smile.

Acting

Katie Holmes, whose bright eyes and chipmunk grin have had fans saying ''awww!'' since her Dawson's Creek days, is going to have to spend the rest of her life trying to overcome her sheer, crinkly nosed adorableness. Her grunged-up star turn in the indie hit Pieces of April was a great start, but playing a sweet, earnest character like Sam Mackenzie won't exactly up her ''range'' quotient in casting agents' eyes. Holmes does a good job in Sam's stronger moments--swapping trivia and favorites with James in a day-long date, tearfully wishing things could be different--but even her essential girl-next-door appeal can't improve trite exchanges with Sam's political parents. Speaking of whom, Keaton is charming as the president; if anything, he gives the Commander in Chief too much regular-guy personality to be entirely convincing as the leader of the free world. Margaret Colin, who looks remarkably like Holmes, stands in as First Lady, but she's not much more than a smile and a wave. Blucas makes a good knight-in-shining armor opposite Sam's princess; he's just sensitive enough to make the girls sigh, but still every inch a guy's guy. Still, it's hard not to think that Holmes and Blucas could have done so much more with a romantic comedy that was less fairy-tale and more grown-up. Rounding out the principal cast is Rogers, who's appealing as Mia, despite the fact that her character pretty much fulfills every ''sassy black friend'' stereotype.

Direction

Given the film's ''once upon a time'' opening voice-over (not to mention its pretty dresses and ballroom scenes), there's no doubt that Whitaker fully intended First Daughter to be a fairy-tale romance. While this might appeal to teenage viewers, dreaming of college and first love, for savvy movie goers, First Daughter feels more like a series of vignettes than a real coming-of-age story. The story lacks any real momentum and you can see plot points coming from a mile away. The movie's core conflict vacillates between essential Hollywood idealism (perfectly encapsulated by the repeated use of ''The Way You Look Tonight'' in the ball scenes) and ardent attempts at deeper, more complex emotions, as Sam finds herself in fits and starts rather than in a clearly defined arc (which may be more the way of real life, but doesn't translate all that well to the screen). Even the happily-ever-after ending, which may not be exactly what you expect, isn't at all satisfying in the way a true fairy tale can touch your heart.

Bottom line

Even down-to-earth princess Katie Holmes can't prevent director Forest Whitaker's would-be fairy tale from falling victim to Hollywood romantic comedy clichés.