Review Date: July 10th, 2003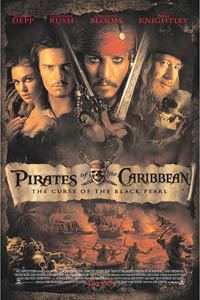 Roguish yet charming pirate captain Jack Sparrow teams up with a young blacksmith to save a young woman and exact revenge on his mutinous shipmates.

Story

The time is the 18th century, and with authentic settings steeped in a dense mass of fog, Pirates of the Caribbean: The Curse of the Black Pearl succeeds as a predatory period piece. In the Caribbean Sea, Pirate Captain Barbossa (Geoffrey Rush) has just led a mutiny against the Black Pearl's captain, Jack Sparrow (Johnny Depp), assailed the colonial town of Port Royal, and kidnapped the Governor's daughter, Elizabeth (Keira Knightley). Barbossa's motives are simple: a cursed treasure has doomed him and his crew to live eternally as the ''undead,'' human by day, living skeletons by night, and the only way to lift this curse is to return the last missing piece of the plundered treasure and spill the blood of its possessor. It so happens that Elizabeth is wearing that very piece around her neck--a gold, skull-embossed doubloon she took from her childhood friend Will (Orlando Bloom), whom her father rescued from a sinking pirate ship as a boy. Will promptly sets out to save her from Barbossa and finds an unlikely ally in Jack, the bumbling and untrustworthy sea captain who just wants his ship back. But since these ghastly Pirates of the Caribbean can't be killed again, sending them to Davy Jones's locker proves to be the challenge of a lifetime for Will and Jack.

Acting

It is a delight to see Depp in a new film (his last big feature was the 2001 historical horror thriller From Hell), and Pirates of the Caribbean's Captain Jack Sparrow is tailor-made for the former 21 Jump Street teen idol. The most intriguing thing about Depp's Jack Sparrow is the duality the actor gives the character: On the one hand, Jack is this lusty, fearless man with a deeply defiant streak. On the other, his delicate features, long, dreadlocked hair, kohl-rimmed eyes and almost girly mannerisms give Jack a subtly effeminate air that belies his macho antics. Depp, who has said he equates 18th century pirates with modern-day rock stars, used Rolling Stones guitarist Keith Richards as inspiration for the role and it comes across clearly in his slurred speech, swaying swagger and slack, waving arms. He obviously had fun, and in the process, created a rich, multifaceted character; in fact, Depp's performance here is so riveting that when Jack does not appear in a scene, the film almost drags. The movie's co-stars also do a wonderful job with the material but their performances pale in comparison to Depp's. As the old, wily Barbossa, Rush brings an air of authenticity to the role of a weathered sea captain. The young Knightley, who made her big-screen debut in the sleeper hit Bend It Like Beckham, is enchanting as Elizabeth--a sharp-witted damsel in distress who knows how to hold her own--and the 18-year-old actress also holds her own alongside such an experienced cast. Bloom, however, is a bit bland as Elizabeth's devoted friend Will.

Direction

After his successful horror thriller The Ring, director Gore Verbinski gives this supernatural adventure pic less terror and more humor. Inspired by the Disney theme park attraction of the same name and produced by explosion maestro Jerry Bruckheimer, Verbinski's Pirates of the Caribbean unfolds a terrific tale which, when combined with superb performances from Depp and the cast and genuine-looking sets, makes for a great moviegoing experience. Verbinski pays close attention to detail here, especially when it comes down to the costumes, hair and makeup, and does so by avoiding the usual buccaneer clichés such as eye patches, hook hands and peg legs; with their deplorable hygiene and silver-capped teeth, the pirates look undeniably real. Take, for instance, a scene in which Jack is speaking up close to a commodore: The navy officer slightly shrinks back after getting a whiff of his breath and we can understand why. The most challenging scenes for the director, however, had to be the fight sequences involving the pirates who turn into skeletons when exposed to moonlight. The characters switch back and forth from human forms to carcasses depending on their exposure to night light and Verbinski achieves this visual effect convincingly. But although beautifully executed, the elaborate, ship-to-ship battle waged between the Black Pearl and the Interceptor is too time-consuming and with the movie coming in at 133 minutes, that could have been whittled down.

Bottom Line

Considering it is based on a Disney theme park attraction, Gore Verbinski's Pirates of the Caribbean: The Curse of the Black Pearl is surprisingly good, but it probably would not have been half as entertaining if it were not for Johnny Depp's commanding performance as Captain Jack Sparrow.