Review Date: November 27th, 2002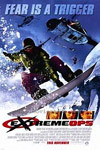 When a film crew heads to an unfinished Austrian resort high in the Alps to shoot the ultimate action commercial they end up fighting for their lives--and saving the world from a Serbian war criminal. Sure, makes perfect sense.

Story

Extreme Ops should be a James Bond movie. Then at least we'd expect the ridiculous plot--plus we'd see some sex. Alas, the film takes itself too seriously and those wacky opportunities are simply missed. As it stands, a crew of commercial filmmakers--director Ian (Rufus Sewell), producer Jeffrey (Rupert Graves), coordinator Mark (Heino Ferch) and cameraman Will (Devon Sawa)--known for going that extra mile to get extreme action shots, are hired to shoot a commercial for a Japanese digital video camera. Their idea is to take three skiers to the Austrian Karawanken Range, bordering Yugoslavia, and have them outrun an avalanche. No sweat. Up for the task are Chloe (Bridgette Wilson-Sampras), a downhill gold medal winner; wild-child snowboarder Kittie (Jana Pallaske); and all-around adrenaline junkie Silo (Joe Absolom). They make it to Austria and shack up in an unfinished resort nestled in the mountains (you were expecting a warm chalet?), where a band of Serbian terrorists, led by war criminal Pavle (Klaus Lowitsch), has also happened to make its base camp. Seems this group of not-so-happy campers has a master plan involving world destruction, which the hapless filmmakers uncover. Darn the luck. It's going to take some fancy-schmancy stunts to foil these bad guys--but our motley crew of extremists is up to the task.

Acting

This is one of those times you wonder what initially convinced good actors such as Rufus Sewell (A Knight's Tale) and Rupert Graves (The Madness of King George) to make this film. Maybe they thought they could improve it along the way. Or maybe the extreme stunts tempted them to have a little fun in the Austrian Alps. Regardless, only Sewell rises above the mire every once in a while; the rest of the cast wallows in it. Newcomers Pallaske and Absolom have very limited range and do better when they simply stand around getting snow in their hair, while Sawa (Slackers) seems sorely out of place. Wilson-Sampras has some potential as an actress (her performance breaking up with Matthew McConaughey on their wedding day in The Wedding Planner comes to mind), but an awful script and a bunch of second-rate actors bring her down. The only exceptions are her scenes with Sewell. As for the villains, it seems Hollywood has a new bad guy of choice. It used to be the Russians, but these Serbs are mighty vicious and suitably over the top. It's their job to make the heroes look good, and they do it adequately.

Direction

Putting aside a weak plot and bad acting, the point to this movie would be the opportunity to see some amazing stunts, right? Crazy snowboarders outrunning avalanches, attack dogs and evil terrorists, all while leaping off snow-capped cliffs and outmaneuvering other perilous terrain. This can make a movie worthwhile if done correctly but, sadly, that is not the case with Extreme Ops. Director Christian Duguay (The Art of War) manages to mess up even this simple task. The first few shots of the skiers shooting down the hill with the snow tumbling after them are pretty spectacular, yet after about the eighth time you see this same shot, it starts to get a little boring. On top of that, there are some extraordinarily bad blue-screen moments when it's clear the actors are standing in front of a fake background. In this CGI age, audiences have high expectations and are very unforgiving of shoddy filmmaking. The worst of the movie's offenses, however, happens in the editing room. With all the good guys, bad guys, skiing, helicopters and running through snow you're never quite sure who's who or what's what.

Bottom Line

Wait for Extreme Ops to come on cable, folks. Watch the first half hour or so to get a small adrenaline rush or to reminisce about those times you went skiing in Colorado, but then flip to another station before your brain melts.