Review Date: October 28th, 2002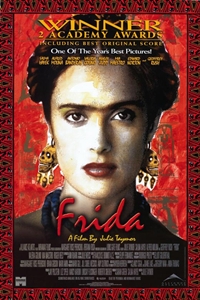 The tumultuous relationship between celebrated Mexican muralist Diego Rivera and the reckless and sickly artist Frida Kahlo in the 20s and 30s survives despites Rivera's womanizing, Kahlo's bisexuality, their divorce, their rise to prominence and fall in America, and a complex friendship with fugitive Communist Leon Trotsky just prior to his assassination in Mexico.

Story

Frida Kahlo (Salma Hayek) is a mischievous and sexually liberated student and aspiring painter in Mexico City when she first spies the much older, prominent muralist Diego Rivera (Alfred Molina) cavorting with one of his models. Frida lives with her loving parents--Mexican mother, German-Jewish father--and is intimately involved with her boyfriend. Tragedy strikes when Frida is gravely injured in a trolley crash and she never fully recovers. When her boyfriend takes off for Europe, Kahlo focuses more on her paintings and boldly approaches Rivera for an honest appraisal of her work. Rivera, well known for his marital infidelity and womanizing, immediately recognizes Kahlo's talent and takes her under his wing as a protégée rather than a lover. An ardent Communist with a zest for socializing, he introduces her to his artsy and progressive circles where Kahlo easily fits in. The pair soon become lovers, and, believing they have a special understanding of each other, decide to marry. The union is immediately threatened when Kahlo learns that the hotheaded Lupe (Valeria Golino), one of Rivera's ex-wives, occupies the apartment above theirs. After Rivera is awarded several commissions in the U.S., he and Kahlo begin their tour in New York and enjoy life as minor celebrities. Kahlo exercises her promiscuity by carrying on with one of Rivera's lovers and Rivera exercises his political intransigence with a fateful confrontation with Nelson Rockefeller (Edward Norton), who hired the artist to paint a mural in the Rockefeller Center lobby. The dust-up causes the loss of another commission and the couple returns to Mexico where they become hosts to fugitive Communist Leon Trotsky (Geoffrey Rush) and his wife. Kahlo has an affair with the legendary figure but when it threatens his marriage, they move away and Trotsky is assassinated soon after. Rivera and Kahlo divorce but remarry when Rivera returns to his partner, who is now impoverished and desperately ill.

Acting

The acting here is outstanding. Salma Hayek as the wild and quietly creative Kahlo is in practically every frame and dazzles in a variety of moods and situations. Alfred Molina, in the more subtle role of Rivera, is every bit as marvelous, managing to charm and delight as a character who is essentially dissolute yet warm and lovable. Valeria Golino is another standout in the lesser role of the fiery Lupe. Geoffrey Rush makes a credible Trotsky and Ashley Judd pleases as a jovial Mexican party girl with a taste for mischief. Antonio Banderas does a neat cameo as a heated Communist and Edward Norton plays a very decent Rockefeller not shy about saying who pays the bills. Brits Roger Rees, convincing as Kahlo's loving father, and Saffron Burrows, as Kahlo's loving diversion, add heft to their supporting roles.

Direction

Julie Taymor, best known for some very showy previous works like Broadway's The Lion King, her feature debut Titus, and a number of critically acclaimed operas, proves again with Frida that she's an incomparable visual stylist. Taymor engages the eyes with a dazzling palette of Mexican colors and iconography and episodes of magical realism and mixed media invention that convey the intoxicating world of her subjects and the dramatic signature events of their lives. But Taymor (who also delivers a seductive, majestic soundtrack), never loses sight of the fact that it is her beguiling characters who matter most.

Bottom Line

Frida, the gripping story of the tumultuous relationship between Mexican muralist Diego Rivera and ultra-liberated artist Frida Kahlo and the dramatic times in which they lived, is a rich cinematic bouquet of gorgeous sounds and visuals, intoxicating characters and epic storytelling. With fine acting from Salma Hayek, Alfred Molina and so many others and a brilliant stylistic turn from director Julie Taymor, the film is unique and involving entertainment presented on a broad canvas but resonant in its revelations of intimate human connection.