Review Date: December 20th, 2002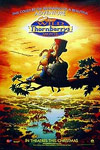 This animated feature follows the adventures of the Thornberrys, a family of filmmakers who travel around the world documenting the wild kingdom.

Story

The Wild Thornberrys Movie is based on Nickelodeon's Saturday morning cartoon, but don't fret if you've never seen it. Before plunging into this Tanzanian tale, the film provides some background about the characters and the story. The heroine is Eliza Thornberry (Lacey Chabert), a 12-year-old girl who travels the world with her family--which consists of her pet chimpanzee Darwin (Tom Kane), her teenage sister Debbie (Danielle Harris), her doting parents Nigel (Tim Curry) and Marianne (Jodi Carlisle), and Donnie (Flea, the bassist for the Red Hot Chili Peppers), an orangutan orphan the family found in the Congo--as they shoot their nature television show, Nigel Thornberry's Animal World. Unbeknownst to her family, Eliza inherited the gift to talk to animals from an African shaman--a power she will lose if it's revealed. While settled in Africa's Serengeti Plains, Eliza discovers that poachers have hatched a sinister plot to kill a herd of elephants with an electrified fence, and she must use her power to stop the slaughter before it's too late.

Acting

Although Chabert has a few features under her belt, including the role of Penny in Lost in Space, she is probably best known as Claudia Salinger on the '90s series Party of Five. Her little-girl voice makes this 20-year-old actress a perfect fit for the voice of Eliza Thornberry, a bright and articulate young girl with an admirable sense of adventure. Kane, who voices Eliza's primate companion Darwin, also voiced Professor Utonium in The Powerpuff Girls Movie, and he gives Darwin's character brains without being too cocky. Harris voices Eliza's older sister Debbie, who isn't always enamored with life in the wilderness; she especially misses her teen magazines. Harris creates a character who speaks with a valley girl accent but isn't a typical flaky teen; she complains about her environment, yet she feels very comfortable in it. Red Hot Chili Peppers' bassist Flea as Donnie the orangutan is a little annoying and probably the least interesting of the bunch, but his penchant for running amuck helps create extraordinary situations for the family.

Direction

Directors Jeff McGrath and Cathy Malkasian have delivered a lively animated movie complete with worldly settings, including London's congested underground rail system, a crowded Nairobi market and the expansive Serengeti Desert. The film has plenty of action sequences showing the lionhearted Eliza putting the lives of animals before her own. In one scene, for example, Eliza throws caution to the wind and jumps out of a moving train to save a rhino that has been shot by poachers. (Perhaps this is why the MPAA rates this film PG ''for some adventure peril.'') Kate Boutilier's wonderful screenplay, which could easily have gone hideously wrong by stereotyping the African characters, instead is devoid of such generalities. Boutilier also steers clear of all things syrupy and cute: there is no annoying baby talk and the animals and their habitat are portrayed realistically, including a scene where a cheetah hunts its prey.

Bottom Line

The Wild Thornberrys Movie addresses its young audience members directly and refuses to talk down to them, making it one of the more intelligent children's movies to hit theaters this year.