Review Date: November 8th, 2002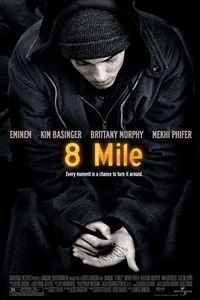 A young white rapper from Detroit's 8 Mile Road area tries to break out of his urban surroundings.

Story

In his feature film debut, Eminem is Jimmy Smith Jr., a poor aspiring rapper living in a trailer park on Detroit's 8 Mile Rd.--the city's perimeter road which separates it from the 'burbs, or more specifically, the blacks from the whites. After breaking up with his girlfriend Janeane (Taryn Manning), Jimmy, nicknamed ''Rabbit,'' heads back to the trailer park to live with his mom (Kim Basinger), a lush with a penchant for bingo. He gets a day job in a factory so he can save enough money to get back on his feet, but at night heads to the Shelter, a hip-hop club where the city's best rappers ''battle'' each other in 45-second rounds of verbally abusive rhymes. Even though his friends, including Shelter MC Future (Mekhi Phifer), believe in him, Rabbit suffers stage fright and freezes like a deer in the headlights when it comes to competition time. But he realizes his entire future--and getting out of Detroit--rests on making it in the hip-hop world and cutting his own demo. To do so, Rabbit must first find his voice and win a coveted battle. The battles, whether you like hip-hop or not, are worth the price of admission alone.

Acting

According to Eminem, whose real name is Marshall Mathers III, this film is part real and part made-up. But his character gets a complete Hollywood makeover here and it's glaringly easy to discern fact from fiction. 8 Mile's Rabbit, for example, is concerned with gun violence (Eminem was arrested twice in 2000 for weapons violations, for which he received probation). And when a coworker starts harassing one of Rabbit's gay coworkers, he breaks into a defensive rhyme: ''Why you f***ing with the gay guy, G? You're the one with the HIV.'' Audiences longing for a compassionate and caring version Eminem won't be disappointed. In his big screen debut, Eminem is convincing and hardly afraid to show a soft and vulnerable side. He's a rapper and lyricist at heart, however, and his spiels often take on a cadence similar to his rap style. As Rabbit's buddy Future, Phifer is solid and their relationship on screen is believable and endearing. Brittany Murphy is also great as the skanky Alex, whose plan is to get out of Detroit by sleeping with all the wrong people. Basinger, however, delivers a bland performance as the drunk mom whining about her teen boyfriend's lack of sexual prowess.

Direction

Director Curtis Hanson scored Oscar nods for Best Picture and Best Director and won Best Adapted Screenplay in 1997 for the drama L.A. Confidential, which is one reason there is more than a bit of buzz surrounding 8 Mile. The film is good, but it's not Oscar worthy. Hanson paints a gritty and realistic portrait of the Murder City circa 1995, but the film's problem lies with the story, written by The Mod Squad scribe Scott Silver. For one week, viewers get a voyeuristic peek into Rabbit's life: he beats people up, works hard, has sex, gets beaten up and sometimes raps. It's a stagnant view that never seems to go anywhere. While we know what happens to his mom--she wins big at bingo, washes her hair and does the groceries--we never find out what happens to Rabbit. We can't even assume the film leaves off where Eminem's career starts because it's not a biopic. But despite the weak story, Hanson commands a strong performance from Eminem and showcases both the rapper's newfound acting abilities and his musical talent. Considering the film's strength lies in Eminem, it's surprising there weren't more musical performances from the Grammy-winning rapper.

Bottom Line

Rapper Eminem scores big with his motion picture debut 8 Mile. His performance, as well as the Billboard-topping soundtrack, makes up for what the film lacks in storytelling.