Review Date: February 13th, 2002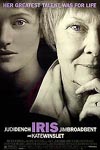 Iris follows the 40-year relationship between literary critic John Bayley and his wife, British author and lecturer Iris Murdoch, who eventually died from Alzheimer's disease at the age of 80.

Story

This film is based on Elegy for Iris, literary critic John Bayley's biography of his late wife, the brilliant writer and philosopher Iris Murdoch. Iris is unconventional in the sense that it does not adhere to a structured plot or story line, but instead focuses on their relationship by flashing back and forth between the present and 40 years ago when the two first met. In the sequences taking place in the past, Kate Winslet plays a young, confident Murdoch in her formative years, a woman revered by men and openly bisexual. Hugh Bonneville plays the young and apprehensive Bayley hopelessly pursuing her. The present, however, reveals a drastic role reversal for the couple: We see Murdoch in her 70s as played by Judi Dench and witness her descent into Alzheimer's disease and the toll it takes on her husband, played by Jim Broadbent. The once-subservient husband has been thrust into a caretaker position and painfully tries to cope with his beloved wife's illness and loss of sanity.

Acting

Dench deservedly received a best actress Oscar nomination for the fabulous job she does as the older Murdoch. She is convincing as a brilliant thinker and even more believable as her condition worsens--check out the heartbreaking scene when Bayley locks himself in the study to get away from her irrational behavior, and she scratches the windowpane on the glass door like a cat while looking at her husband with utter helplessness. Dench conveys her character's vulnerability in a single glance. As an older Bayley, Broadbent is as impressive as Dench, especially as he struggles to be assertive yet avoid being too harsh. Bonneville as a young Bayley could almost be Broadbent's clone. At first glance, he looks like the same actor made to look older through some sort of makeup or special effects wizardry. Bonneville skillfully hatches the young Bayley's traits and tics later perfected by Broadbent. Winslet, also Oscar-nominated for Iris (in the supporting actress category), well plays Murdoch's early audacity and boldness.

Direction

Director Richard Eyre does a beautiful and seamless job flowing from the past to the present throughout the film. Although the film barely delves into Murdoch's work, the importance of her writing is established with scenes from a BBC interview or a luncheon given in her honor. Eyre also does an exceptional job conveying Bayley's hopeless predicament: he fusses over Murdoch like an overprotective parent, intermittently lashing out at her only to apologize, sobbing, afterward for having done so. It's sweet and pitiful, especially since Bayley believes that the Iris he fell in love with is still in there somewhere. But while the film is visually exquisite and convincing, the subject matter is not necessarily entertaining. We know Murdoch will eventually succumb to her illness, but it's even more dreadful to have to watch every agonizing step. By the time Murdoch was reduced to playing in the dirt and watching Teletubbies, I found myself wondering, When is she going to die already?

Bottom Line

While the talented cast creates a stirring and heartbreaking biopic of the late Iris Murdoch, the story is weighed down with too much gloom and despair.