Review Date: January 19th, 2005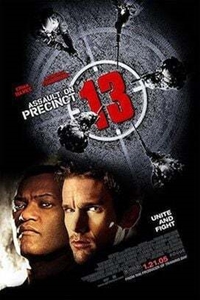 Assault on Precinct 13 is a tense, action-packed remake of the 1976 John Carpenter film in which a small motley crew, trapped in a police precinct, must fend off a marauding gang trying to break out a prisoner. Or so it seems. Fasten your seat belts; it's going to be a bumpy night.

Story

On a very snowy New Year's Eve, Precinct 13, one of Detroit's oldest police houses, is getting ready to close up shop for good. Only a skeleton crew is left on duty, headed by Sgt. Jake Roenick (Ethan Hawke), a former undercover detective knee-deep in guilt issues over a bust that went sour months before. As the small group settles in for the night, they unexpectedly get a New Year's surprise when a prison bus is forced to stop at 13 for the night. But this isn't just your ordinary transport. Oh, no. Seems formidable crime lord and known cop-killer Marion Bishop (Laurence Fishburne), who was nabbed earlier in the day, is among the criminals aboard the bus. Roenick reluctantly takes them in but soon regrets the decision when it seems like a gang of Bishop's cronies are trying to break him out. Or are they Bishop's henchman? We come to find out they're really a gaggle of dirty cops, lead by the particular nasty Marcus Duvall (Gabriel Byrne). They want to kill Bishop because they fear he'll rat them out. That certainly takes the whole ''good cop, bad cop'' adage to another level, doesn't it? Armed only with minimum weaponry, the precinct denizens--cops, civilians and cons alike, who are all now culpable in the eyes of the bad guys--must join forces in a fight for their lives.

Acting

Hawke and Fishburne are both in top form. As the troubled Roenick, Hawke revisits his Training Day experiences as he again plays a sincere cop just trying to do the right thing while facing great odds. Fishburne, too, taps into past performances--Bad Company comes to mind. He infuses Bishop with the requisite amount of gangster malice, but then he switches gears to become the calm voice of reason when the bullets start flying. Precinct 13 is also bolstered by a fine supporting cast. The Sopranos' Drea de Matteo does a nice turn as Iris, the sexy-but-tough precinct secretary who has a penchant for bad boys, including the very tempting Bishop. Maria Bello (The Cooler) plays Alex, a psychologist treating Roenick who gets stuck in the wrong place at the wrong time, with the right amount of fear and eventual bravado. As the other criminals on the bus, John Leguizamo as a junkie and Ja Rule as a con artist provide some necessary comic relief. Byrne oozes malevolence as the main baddie, but he doesn't get to do much more than just shoot people in the head. And last but not least, talented character actor Brian Dennehy makes an appearance as a salty veteran cop who has his own agenda.

Direction

Some true blue fans of the John Carpenter film (which, in turn, is loosely based of the 1959 Western classic Rio Bravo) may be wondering why they would want to mess with a good thing. Why not? Precinct 13 is a classic set up--an action-packed standoff between the white hats and black hats, in which the good guys have to rely on some not-so-good guys in order to defeat the hordes of really bad guys. The fact this particular rendition is helmed by French director Jean-Francois Richet makes it all the more interesting. After gaining the rights from Carpenter, as well as his full blessing, Richet and screenwriter James DeMonaco (The Negotiator) veered from Carpenter's story slightly. They set the remake in Detroit, rather than L.A., and cast crooked cops as the villains rather than a street gang out for vengeance. The grainy, fast-paced action works. Allowing some predictability, over-the-top dialogue and cardboard cut-out characters, the film still has you guessing who's going to betray whom--and most importantly, who's going to live and who's going to die.

Bottom Line

The title sort of says it all. Even though is it a rehash, Assault on Precinct 13 still assaults your senses and keeps you on the edge of your seat.