Review Date: February 8th, 2002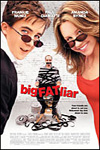 When a 14-year-old perpetual liar finally tells the truth, no one believes him. Frustrated, he sets out on a mission to regain the trust of those closest to him.

Story

Thanks to his quick wit, Jason Shephard (Frankie Muniz) is able to lie his way out of any situation-and he usually gets away with it-until now. In a last ditch effort to avoid summer school, Jason hops on a bike to deliver an English paper to his teacher before the six o'clock deadline. On the way, he's hit by a limo carrying famed Hollywood producer Marty Wolf (Paul Giamatti), who, in exchange for trashing the kid's bike, agrees to give him a ride to school. During the ride Jason drops his book bag and, of course, out falls the paper. Stuck in summer school with no one to believe his story doesn't sit right with Jason, who for once in his life is actually telling the truth. To make matters worse, Jason finds out that the same Hollywood producer has turned his class paper, titled ''Big Fat Liar,'' into a blockbuster movie. Now with the help of his friend Kaylee (Amanda Bynes), Jason sets off to Tinseltown to prove he wrote the story and exact revenge on the sleazy producer.

Acting

It's refreshing to see Frankie Muniz (Fox's TV series Malcolm in the Middle), a real teen, in the role of a teenager, instead of some thirtysomething from the WB. While Muniz's eye-popping expressions and smart-aleck antics may be getting a bit tiresome (after all, we see them every Sunday night), he still carries the film well without being overly clever or annoying. Cutie-pie Amanda Bynes (Nickelodeon's The Amanda Show) plays his smart and daring gal pal Kaylee well, and you have to wonder why they dolled her up in such kinky, midriff baring outfits. But it's Paul Giamatti (Planet of the Apes) who steals the show as movie magnate Marty Wolf. His neurotic, Godlike persona is completely loathsome, yet you can't help but feel sorry for him at times. Amanda Detmer (The Majestic) plays the role of Wolf's assistant Monty and encompasses the perfect people-pleaser persona who actually does all the work. There are also some funny cameos by Lee Majors and former child star Jaleel White (you'll remember him as Urkel).

Direction

If any of the humor in Big Fat Liar flies, it's hardly thanks to Nickelodeon scribe Shawn Levy, who seems to glaze over major plot holes and inconsistencies. For example, when Wolf emerges from the blue dye-filled pool, how come his skin turns blue, but his bathing suit doesn't? There are also some predictable and clichéd elements in the film, including bumbling security guards and a ditzy receptionist. The worst scene has to be to the musical montage involving Muniz and Bynes in the Universal Studios prop warehouse where the two teen stars prance in front of the camera in different costumes striking cutesy poses. In fact, practically the entire film was shot at Universal Studios. Reminiscent of Pee Wee's Big Adventure, Muniz and Bynes spend a lot of time being chased around the lot, traversing scenes from different movie sets. But the hackneyed components somehow get eclipsed by the actors, the cameo appearances and the sly way it sort of laughs at itself and at Hollywood.

Bottom Line

Big Fat Liar may not be the most knee-slapping youth-oriented movie, but it's funny enough without ever resorting to the gross-out humor plaguing most of the comedies out there.