Review Date: November 10th, 2000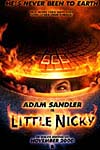 Adam Sandler is the son of the devil who leaves the warm comforts of hell and heads for Earth to save the planet from his two evil brothers.

Story

When Satan (Harvey Keitel) decides not to turn over his evil throne after a 10,000-year reign, his two eldest sons become enraged, causing them to break out of Hades to create their own hell on Earth. Their plan causes their dad to lose his power and slowly disintegrate. This leaves the huge task of saving his dad and Earth squarely on the slouching shoulders of his youngest, and dumbest, son, Little Nicky (Sandler). Guided by a sarcastic talking dog, Little Nicky must try to use his barely developed evil power to wrangle his brothers back home.

Acting

There's very little change in Sandler's characters and the same goes for his Little Nicky. He's like "The Waterboy's" Bobby Boucher Jr. possessed by the dopiest demon alive. He speaks with the same speech impediment only this time out of the side of his mouth. Despite the resemblance, Sander can still draw lots of laughs thanks to the film's great writing. There's also a number of hilarious cameos that bolsters the films comedy, including Quentin Tarantino, Dana Carvey, Rodney Dangerfield, Ozzy Osbourne, Henry Winkler and Clint Howard.

Direction

Steven Brill ("The Wedding Singer" "Big Daddy") teams up with Sandler once again to direct him in a film that screams classic Sandler comedy. And like most Sander/Brill films, the comedy lies squarely on its quirky characters, which are provided generously in this winner. Once again Brill has taken the gut-busting comedy that's been written on paper and translated it on film with uncompromising precision and style.

Bottom Line

This little number will make you laugh like hell.