Review Date: June 23rd, 2000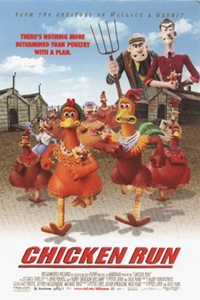 You will believe that chickens can fly ... with the proper aviation

equipment.

Story

When greedy Mrs. Tweedy turns her egg farm into a chicken pie factory,

the resident hens concoct a desperate, last-ditch plan to escape their

fate behind the chicken wire. Farmer Tweedy knows the chickens are up to

something, but his tight-ass wife insists that it's all in his 'ead.

Acting

You know Mel Gibson plays Rocky the Rooster, the would-be

action-chicken, but chances are you've never heard of any of the

wonderful British thesps who play the other poultry. Julia Sawalha of

the Brit sitcom "Absolutely Fabulous" is the voice of Ginger, the heroic

hen who leads the chickens to freedom. Jane Horrocks ("Little Voice,"

and also of "AbFab" fame) plays a dim-witted egg-layer, and Phil Daniels

and Timothy Spall are brilliant as Fletcher and Nick, a pair of rats

with a penchant for thievery.

Direction

Co-directors Nick Park (of "Wallace & Gromit" fame) and Peter Lord (a

founder of Britain's acclaimed Aardman Animation studio) have created an

animated film that's visually inspired and entertaining throughout --

for adults, that is. You gotta wonder if the dreary chicken farm, with

gray skies looming and a concentration camp-like atmosphere (not to

mention all the thick Brit accents), will be a bit off-putting to the

kiddies.

Bottom Line

It's "The Great Escape" a la Colonel Sanders. It's (relatively) low-tech

claymation with all the heart and humor of the high-tech "Toy Story"

flicks. It could be this summer's sleeper, or this summer's "The Iron

Giant."