Review Date: December 7th, 2001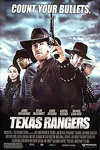 In 1875, the legendary Leander McNelly is chosen to lead a group of unlikely heroes to protect the innocent from an army of renegade outlaws in southern Texas.

Story

Texas Rangers is loosely based on the actual story of the reconstitution of the Rangers, members of a mounted force of Texans organized in 1835 to maintain order on the frontier. The film begins with Lincoln Rogers Dunnison (James Van Der Beek) witnessing the brutal murder of his family by a group of sadistic cattle rustlers. Seeking justice, Dunnison heads to Brownsville to join the Texas Rangers. Even though he can't shoot a gun or saddle a horse, Rangers leader Leander McNelly (McDermott) is impressed with Dunnison and takes him under his wing. McNelly, who is afflicted by a deadly tuberculosis-type ailment, decides his young apprentice will make a good leader once he is dead and buried. The Rangers spend the rest of the film plodding across a sepia-toned map and taking revenge upon lawless cattle thieves, accompanied by lame and explanatory narrative.

Acting

Not even a group of male heartthrobs like James Van Der Beek, Ashton Kutcher, Dylan McDermott and Usher Raymond could make Texas Rangers remotely interesting. The biggest problem stems from the fact that all four have been typecast based on their familiar TV personas (with the exception of Raymond, who is essentially the token black guy who complains about being mistreated by Uncle Sam). Van Der Beek plays the same moral, righteous character he does on Dawson's Creek every Wednesday night, while Kutcher acts pretty much along the lines of his alter ego Kelso from That '70s Show. And although Dylan McDermott is convincing as Leander McNelly, he just seems as fervent as his character on The Practice. Their typecasting not only takes away from the film's authenticity, it also magnifies their Wild West ineptitude, like bungling horse riding skills.

Direction

Director Steve Miner takes what is by far the most clichéd and unimaginative script ever written (care of Scott Busby and Martin Copeland) and turns it into the most uninspiring film ever made. The movie consists primarily of shots of the aged map with superimposed images of faded Rangers on horseback galloping across it and of butternut squash exploding during shooting exercises. Combined with the fact that the editing is so thoroughly sloppy and unevenly paced, the film becomes almost jarring. One has to wonder, for example, if Dunnison's expert marksmanship literally developed overnight or if it was simply a product of bad editing. It doesn't help matters that an Alberta stunt coordinator and horse wrangler employed during the shooting of Texas Rangers claims he counted 20 horse-related accidents during the production. It will make you cringe every time a stallion goes down.

Bottom Line

A onetime staple of Hollywood, the days of the Western might finally be up. A bad story with a hackneyed plot combined with a cast better suited for just about any other film make Texas Rangers a real loser, lock, stock and barrel.