Review Date: May 23rd, 2000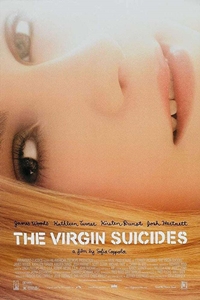 Sofia Coppola, daughter of the "Apocalypse Now" guy, makes her feature film debut with a "suburbia kills" drama.

Story

Based on an acclaimed novel (which, in turn, was based on a real-life incident that happened in the mid-'70s), it's ostensibly the story of five picture-perfect teenage sisters who took their own lives. In a vein somewhat similar to both "The Ice Storm" and "American Beauty," it's told from the perspective of the neighborhood boys who lusted after them from afar, but were never able to comprehend the girls' final desperate act.

Acting

It's essentially an ensemble movie, and there isn't a bad apple in the bunch. Kirsten Dunst is distantly seductive as the high school hottie who, once deflowered, goes on a series of meaningless sexual conquests on the roof of her house while her parents and siblings sleep. Josh Hartnett, with the quintessential stoner haircut, is compelling as the pursuing stud who deflowers her.

Direction

As a director, Coppola has a great sense of mood and a great visual style, but her writing is choppy and disjointed. Not enough time is spent with individual characters, especially mom and dad (Kathleen Turner and James Woods), even though it's implied that they're the very reason the kids bit the dust. The sequence where the girls off themselves is masterful, but it's followed by a second ending, which is totally unnecessary.

Bottom Line

A fine first effort from a fledgling director with fine Hollywood bloodlines, "The Virgin Suicides" is a good, interesting film that could have been a great, captivating film.