Review Date: August 14th, 2001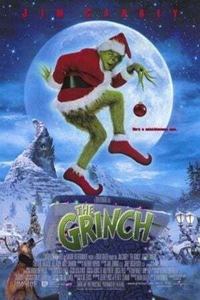 The irrepressible Jim Carrey brings the infamous green meanie to life in this vibrant, frolicsome live-action version of Dr. Seuss' holiday classic.

Story

That hard to classify species with ''termites in his smile'' and ''garlic in his soul,'' known as the Grinch learns a thing or two about the meaning of Christmas and the laws of aerodynamics and gravity when gets on a top-heavy sleigh. This time, we learn a thing or two about what makes the Grinch a grouch. The sad, taunted childhood of a hirsute emerald outcast sheds a sympathetic light on the green one's grinchy ways.

Acting

While the real stars of this eye-candy extravaganza are the colorful costumes, dazzling effects and Seuss-esque set design, Carrey makes a mighty fine Grinch, elevating spoil sportsmanship to Olympic athleticism. Still, his Grinch is less intimidating than the one voiced by Boris Karloff. Carrey's version of ''You're a Mean One, Mr. Grinch'' pales in comparison to baritone Thurl (Tony the Tiger) Ravenscroft's original. As Cindy Lou-Who, Taylor Momsen is a tad too saccharine and her plaintive warbling of the film's only original composition, ''Where Are You Christmas?'' is irritatingly instructive. Jeffrey Tambor makes a top-notch boob as the Mayor of Whoville and childhood rival of the Grinch for the affections of one Martha May Who-vier, (Christine Baranski as a hotsy-totsy Who if ever there was one.) Bill Irwin plays Lou Lou-Who (Cindy's dad), but he doesn't really get a chance to stretch his clowning wings.

Directing

Dr. Seuss should be proud of Ron Howard's superior effort in creating a wacky-wondrous Whoville full of elaborate mechanical widgets and bright, shiny thingamajigies and whatsamahoozits. The Grinch's cavernous lair atop Mt. Crumpit is a dilapidated bat cave of comical cockeyed contraptions and gear-powered doohickeys. ''The Grinch'' answers the crucial question as to the psychic origins of all things Grinch, however, our newfound understanding of him somehow demystifies the wonder and the splendor of the Grinch. Stretched to feature-length, but ever mindful of the kid fear factor, this benign curmudgeon is reduced to making prank phone calls. His remissness in munching on Cindy Lou is disappointing, to say the least. Despite Carrey's hip quips and frantic antics, the remake is not nearly as edgy.

Bottom Line

Dr. Seuss purists might want to stick with the cartoon for maximum nostalgia, but the magic of Hollywood makes for a pretty splendiferous visual spectacle.