Review Date: December 3rd, 1999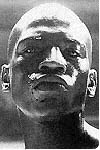 Long recognized as one of the roughest neighborhood's in New York City (although gentrification has seeped in), Hell's Kitchen has been the setting for several feature films about tough guys ("State of Grace," "Sleepers").

Now the area gets its very own movie courtesy of writer-director Tony Cinciripini. Lucky for him real estate can't sue.

In attempting to craft a modern morality play set against the seedy background of drug abusers, petty thieves and their lovers, Cinciripini creates a not-entirely-successful universe.

The film opens with a botched robbery that leaves one dead and another, Johnny (the stalwart Mekhi Phifer), taking the fall for his shooting. After five years in prison, Johnny goes to work for former pugilist Lou (William Forsythe), who now works at the 37th Street stables. In the interim, Johnny's ex-girlfriend Gloria (Angelina Jolie) has been nursing a grudge: It was her younger brother who was killed, and now that Johnny's out, she wants to exact revenge.

Turning to her current lover Patty (Johnny Whitworth), she begs him to kill Johnny as a means of proving his love. Unbeknownst to her, the drug-dealing Patty is not only sleeping with her crippled mother (a miscast Rosanna Arquette) but also harboring a secret about that fateful night. In the meantime, Johnny still cares for Gloria and tries to save her from what he sees as a wasteful life.

Now an amateur boxer, he and Lou become embroiled in a scheme to throw a fight. Along the way, he has also befriended a homeless preteen who reminds him of his own deceased brother.

Instead of a slice-of-life examination of the residents of a vanishing neighborhood, the audience is presented with too many plot strands that don't mesh. Part family drama, part boxing film, part gangster story, part soap opera, "Hell's Kitchen" doesn't add up. (Yes, I am aware that it is in vogue on daytime television to feature Mob storylines, but in that genre, the plots unfold over months, not in two hours or less.) In trying to cover so much, Cinciripini sabotages his effort.

The glossy look of the film and its soundtrack (to which Phifer contributed) help to cover up some of the movie's shortcomings. Cinciripini was a protege of Method acting guru Lee Strasberg, and his script recalls Method plays such as Michael V. Gazzo's "A Hatful of Rain."

The director knows how to coax performances from his actors, although he arguably could rein them in more here. Still, it's of interest to watch up-and -coming actors such as Whitworth, Phifer and Jolie work, all of whom acquit themselves though no one would include this film as among their best. Of the cast, Forsythe offers perhaps the best performance, one of modulation in a frenzied world.

"Hell's Kitchen" is best viewed as a noble failure that will be a footnote in the careers of its participants.

* MPAA rating: R, for strong sexuality, language, drugs and violence.

"Hell's Kitchen"

Mekhi Phifer: Johnny Miller

Rosanna Arquette: Liz McNeary

William Forsythe: Lou

Johnny Whitworth: Patty

Angelina Jolie: Gloria McNeary

A Cowboy Booking presentation. Director Tony Cinciripini. Screenplay Tony Cinciripini. Producers Tony Cinciripini, Valarie Bienas and Randy Gardner. Director of Photography Michael Spiller. Editor Steve Silkensen. Music Supervisors Nat Robinson and Tony Cinciripini. Production Designer Valarie Bienas. Set Decorator Catherine Pierson. Running time: 1 hour, 21 minutes.