Review Date: September 4th, 2001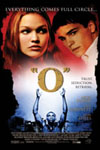 Repeatedly delayed for release due to outbreaks of school violence, O is yet another take on Shakespeare's classic tragedy Othello, this time set in a modern-day high school.

Story

Hugo Goulding (Josh Hartnett) hates Odin James (Mekhi Phifer) for being the star of their elite Southern prep school's basketball team. Even Hugo's father (Martin Sheen), the team's coach, seems to favor Odin the most. Hugo jealously plots against Odin, hoping to destroy what he loves most: his relationship with the dean's beautiful daughter, Desi (Julia Stiles). Through the manipulation and exploitation of their weaknesses, Hugo incorporates his roommate Roger (Elden Henson), his girlfriend Emily (Rain Phoenix), and Odin's best friend Michael Cassio (Andrew Keegan) into his plot. However, as the championship basketball game approaches and the pressure mounts, Hugo's devious plan spins out of control and comes to a head in a single disastrous night.

Acting

Though the title character is Odin, the protagonist here is the vile Hugo, whom Hartnett plays superbly. His face has a certain mystique that is captivating, and he manages to arouse sympathy even as he's plunging the knife deeper into his friends' backs. Stiles, a Shakespeare veteran, oozes that all-American goodness. She's perfect for the passionate but naïve Desi, while Phifer exhausts his range of emotions as Hugo's pawn. Though he's not one of the major players, Sheen is intense as the win-hungry coach, proving once again why he's enjoyed such a long and prosperous career.

Direction

Demonstrating that he's just as adept behind the camera as he is in front of it, Tim Blake Nelson successfully blends the basic ideas and themes of Shakespeare's classic work with such hot-button issues of today as school violence, interracial dating and teenage drug use. Yet he manages not to come across as moralistic or preachy to his young audience. Instead, aided by Brad Kaaya's well-adapted script, he combines all these elements into a mature and tasteful teen film. Also, thanks to Nelson's visually intense and chilling climax, the audience will have plenty to think about once they leave the theater.

Bottom Line

By putting his ideas into a contemporary perspective, O helps make Shakespeare accessible to the younger set, but older audiences may find it less satisfying.