Review Date: July 6th, 2000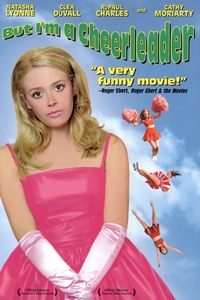 Sweet suburban teen love story with a Sapphic twist.

Story

Brace yourself, Dr. Laura. This clueless teen queen (Natasha Lyonne) has it all: good looks, a football captain boyfriend and a popular pair of pom-poms. But her candy-colored world crumbles when her panicked parents stage an intervention after finding a Melissa Etheridge poster that leads them to conclude she's a friend of Ellen. After being carted off to an anti-gay rehab camp for teens, the perky princess must choose between the straight and narrow-minded or the love that dare not speak its name.

Acting

The quirky ensemble casting is half this film's fun. Lyonne is charming as the pepster tempted by T&A, and she sparks onscreen with swanky and sexy co-star Clea DuVall, who plays the butch femme fatale suitor (alarmingly reminiscent of Nancy McKeon's Jo from "The Facts of Life.") Drag queen supreme RuPaul is unrecognizable out of his high heels and even higher blond wig, wearing a "Straight is Great" T-shirt as a macho, militant ex-gay counselor. Cathy Moriaty is sweetly sinister as the homophobic headmistress, and Mink Stole steals scenes as the uptight, upright meddling mom.

Direction

Kudos to Jamie Babbit for tackling this hot-potato topic, but this well-intentioned film too often misses its mark, turning potentially comical scenes into unbearably awkward moments. Babbit fouls when tugging at the heartstrings but hits home runs when the humor is at its broadest.

Bottom Line

Go, team! Though sometimes clumsy, this queer "28 Days" scores chuckles and cheers.

--------------------------------------------------------------------------------

Starring Natasha Lyonne, Clea Duvall, Cathy Moriarty, RuPaul Charles, Mink Stole and Bud Cort.

Directed by Jamie Babbitt. Produced by Andrea Sperling and Leanna Creel. Screenplay by Brian Wayne Peterson. Released by Lions Gate Films.