Review Date: November 19th, 1999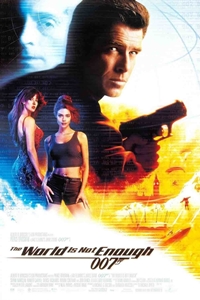 For James Bond, "The World Is Not Enough." For the rest of us mere mortals, it might be too much.

The 19th episode in the 007 series offers everything a Bond movie should -- beautiful women, lots of great techno-gadgets, excellent action and the supremely cool superagent himself. It also has all the things one hopes the latest James Bond flick would jettison -- namely, a bad story, lots of corny plot developments and the leftover feeling that maybe they'll get it right the next time out.

Pierce Brosnan does his darndest to keep things cool. In his third outing as the spy who'll never die, Brosnan musters the right combination of killer wit and just plain killer in an effort to keep the world safe from a bad bloke who doesn't feel pain. Thanks to a bullet in his head from one of 007's accomplices, Brit baddie Renard (Robert Carlyle of "The Full Monty") holds hot coals in his hand as easily as he pursues world armageddon.

It's all part of a grand scheme to get even with Bond's employers, M16. Before you can say opening credits, Renard's minions have murdered Bond's oil tycoon buddy and taken the superagent on an extended chase via car, speedboat and hot-air balloon. They're also the villains responsible for the kidnapping of beautiful Elektra King (Sophie Marceau), daughter of the deceased tycoon and heiress to King Enterprises.

She conveniently escapes and is awarded the bodyguard services of England's No. 1 man of action. Bond being Bond, business and pleasure quickly mix like a shaken martini, but this time, the agent's a bit dubious about his long-legged friend. Bond questions her motives and does some snooping of his own, sniffing out a larger plot to cause mass havoc.

He also ends up investigating another beautiful lady named Christmas Jones. She's the sexiest American physicist in the Eastern Bloc and a dead ringer for bombshell phenomenon Denise Richards.

The actress, who tangoed with Neve Campbell in "Wild Things" and Paul Verhoeven in "Starship Troopers," has some difficulty sizing up against the Bond legacy. Physically, she's the right type to race up bomb shafts and across pipelines with our intrepid hero. Biologically, she doesn't possess the chemistry to be either a rocket scientist or a believable Bond babe. Thankfully, for the film's marketers, she's all that and an extra ticket for young male viewers who remember Sean Connery primarily as Indiana Jones' dad.

The Bond series in general is in the midst of retooling itself for the new generation. Casting Richards is an obvious step. Pierce Brosnan is a subtler one. The actor is still reliable for younger crowds and has done well transforming himself from last decade's "Remington Steele" to this decade's definitive Bond. He continues to make the action look easy here, from a rapid-fire sequence on skis to the final battle beneath the seas. In defense of his May-December relationship, his pairing with Richards isn't quite as egregious as this year's earlier screen match-up between Connery and Catherine Zeta-Jones in "Entrapment."

The problems with "The World Is Not Enough" are as familiar as its assets. As with all Bond enterprises, the plot is basically a plodding excuse to get viewers from one exotic location and female co-star to the next, besides providing ample opportunities to blow up stuff. Among the bonuses this time: a funny John Cleese as the heir apparent to Desmond Llewyln's Q (appropriately dubbed R), and more screen time for M, played with grace and sophistication by Dame Judi Dench. Among the distractions: much inane dialogue, a lot of it unfairly assigned to Dench's character.

Those familiar with 007, and those who simply need their action fix, won't be completely disappointed. There are a lot of high-flying, commercial hijinks and enough sexual innuendo to keep fans from protesting. Only this time, the legend is beginning to show its years. Brosnan's a fine hero. The BMW's in good shape. And there are plenty of beautiful women and villains yet to discover. When the 20th installment finally rears its inevitable head, it may or may not be enough.

*MPAA rating: PG-13, for intense sequences of action, violence, some sexuality and innuendo.

'The World Is Not Enough'

Pierce Brosnan: James Bond

Sophie Marceau: Elektra King

Robert Carlyle: Renard

Denise Richards: Christmas

Jones Dame Judi Dench: M

An MGM/UA presentation. Director Michael Apted. Screenplay Neal Purvis, Robert Wade and Bruce Feirstein. Story Neal Purvis and Robert Wade. Producers Michael G. Wilson and Barbara Broccoli. Director of Photography Adrian Biddle. Editor Jim Clark. Production Designer Peter Lamont. Music David Arnold. Costume Designer Lindy Hemming. Running time: 2 hours, 8 minutes.