Review Date: October 10th, 2014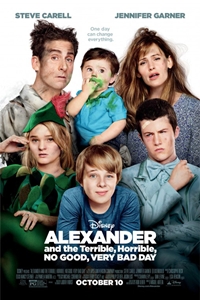 Alexander and the Terrible, Horrible, No Good, Very Bad Day has more questionable elements than it has titular adjectives. Elements that make you wonder just how certain parties - the ones involved that you love and to whom you choose to extend countless benefits of the doubt - signed off on this mess.

We watch these parties - Steve Carell, Jennifer Garner, and guest stars Megan Mullally and Dick Van Dyke - trot through the muck of a day that just gets worse for all parties. Carell and Garner play parents to Alexander Cooper (Ed Oxenbould), a 12-year-old boy who is no stranger to bad days. When Alexander wishes that his family would finally know what it's like to live under Murphy's Law, the whole Cooper clan - including both parents, a lovestruck older brother (Dylan Minnette), and a budding thespian middle sister (Kerris Dorsey) - succumb to misfortune in the least creative of ways.

While the simple children's book source material gives way to a film intended for the same demographic, it shows that director Miguel Arteta has only worked in more mature material up to this point. A legion of poop jokes result from a fatal misprint in the picture book published by mother Kelly (Garner). Dad Ben (Carell) nearly fouls up his son's birthday party when he orders burly strippers instead of... well, we actually don't know what he thought they were. But worst of all, teenage sister Emily (Dorsey) gets loopy after downing an entire bottle of cold medicine, an antic that is played for laughs.

Then we have the more tame material, which lands lazily, unfunnily, and without any energy whatsoever... a miracle, considering how hectic this film is. With so many characters running around between job interviews, prom dates, school plays, and public book readings, you'd imagine a burst of life force to come to fruition somewhere along the line. Instead, the effectively charmless, brainless, and occasionally toxic movie falls very short of its electric source material... but very much lives up to its title.