Review Date: N/A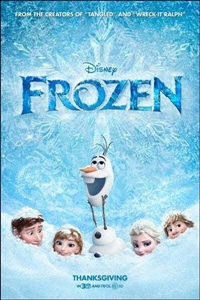 Frozen, the new animated film by Disney earns its charms the honest way: with smart writing and heartfelt performances. It's not an easy thing to pull off in an animated film, but when it works, it gives a digitally rendered 3D film a shimmer that allows it to stand above the other stuff effortlessly. Once again, Disney stands as the animation studio to beat come Oscar time, and it's well-earned.

The film is so loosely based on "The Snow Queen," a fairy tale by Hans Christian Andersen, that the story only gets an "inspired by" credit, so comparisons are futile. This is a Disney princess story through and through (oh, the marketing possibilities with two new princesses for the price of one!). However, the sensitively drawn characters by screenwriter and co-director Jennifer Lee (Wreck-It Ralph) evoke a precious sympathy through humor and wit.

Anna (voiced by Kristen Bell) and older sister Elsa (voiced by Idina Menzel) grow up as inheritors to the kingdom of Arendelle, in a mythical version of Norway. Elsa, imbued with the ability to create ice and snow with the flick of a wrist, must hide her magical powers for fear of endangering the lives of loved ones and being revealed as a witch. She therefore stays shut in her room, her sister Anna left to yearn for their connection, as they come of age on their own. This sacrifice makes her a stranger to her younger sister.

When the time comes to coronate a new queen, Elsa must face her fear of trying to restrain her power while becoming the center of attention in the kingdom. Of course things go awry, and she unwittingly unleashes an eternal winter upon the kingdom. Elsa flees to the snowy mountains in the distance, and Anna chases after her with a guilty sense of responsibility. Along the way, Anna makes cautious friends with ice-harvesting Kristoff (Jonathan Groff) and his faithful reindeer Sven. Their necessary alliance inevitably grows into something more intimate in charming, hesitant steps.

Then there's Olaf (Josh Gad), a magical talking (and singing) snowman who's still trying to figure out his own existence and misguidedly pines for the romance of summer. The fact that he is loosely assembled from balls of snow that easily come apart will delight the kids. But the fact that almost everything he says, with brilliantly timed delivery by Gad, has a wry wit will delight the older fans of layered humor.

Aside from co-director Chris Buck (who also co-directed Disney's Tarzan), the filmmakers are a young group, and this brings a freshness to the Disney humor. Besides one disgusting reference to boogers that doubles as a potshot at men, the jokes forgo the base and easy gross-out humor and walk a precious line of relatable gawkiness and humility. The awkward self-awareness continues in the songs by Kristen Anderson-Lopez and Robert Lopez, whose lyrics walk a wide-ranging line, as they also rise to powerful emotional heights. Menzel does particularly strong work when handling the movie's single "Let It Go." Her voice glows with humanity and stirring ragged edges.

When a film like this can melt the cynicism from a writer like me, it deserves recognition. The stereoscopic 3D is as warm as you would expect from a Disney production. The textures of ice alone offer many fascinating visual moments. Frozen towers above any mainstream animated film released this year as far as quality of graphic and writing. The subtleties of its pace only somewhat comes undone toward the end, when the filmmakers get a little too caught up with action sequences and plot twists. But, by then you are ready to forgive any shortcomings, as Frozen has melted your heart.