Review Date: April 17th, 2012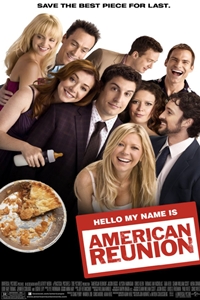 Sift through comments on franchise sequel announcements and you'll find many crying afoul to Hollywood's insistence of resurfacing every last brand in their bank of titles. The desire for original content is reasonable, but occasionally, a cinematic follow-up does have the potential to be rich and rewarding. Revisiting characters who've seen time pass in their own lives is worthy of exploration — Peter Bogdanovich's Texasville, Richard Linklater's Before Sunset and even A Very Harold & Kumar Christmas prove that theory. American Reunion reaches for that same dramatic arc, reentering the lives of its core cast eight years after American Wedding. But instead of mixing comedy with any weighty issues, the movie only tickles the nostalgia bone (and without f**king one pie in the process) — a hurdle that keeps American Reunion from being nearly as riotous as the original.

ALTLife hits a wall for Jim (Jason Biggs) in 2012. He's a happily married man, a father and a moderately successful employee of a faceless company. But after catching his wife Michelle (Alyson Hannigan) enjoying the company of a shower head, it dawns on Jim that he's in need of a shake-up. Perfect timing: Jim packs up the family and heads to his hometown for his 13th high school reunion (sure, why not), where he reunites with the old gang: Kevin (Thomas Ian Nicholas), currently whipped into submission by his girlfriend, Finch (Eddie Kaye Thomas), back from a trip around the world, Oz (Chris Klein), now a superstar sportscaster fresh off a celebrity dance show stint, and Steve Stifler (Seann William Scott), a law firm temp who continues to turn women into his own personal squeeze toys. The high school buddies devolve quickly into their old habits, alcoholic antics and potty-mouthed rants by the red solo cupful. Good fun for Jim, no fun for Michelle.

Instead of digging deep into its well-founded characters (which I swear is allowed in a raunchy, R-rated comedy), American Reunion sticks to the familiar goofball scenarios of its predecessors. Which is passable, because the core group who stuck through all three movies — Biggs, Nicholas, Thomas and Scott — make poop-infused pranks and slapstick shtick, like a scene in which Jim and co. must get a drunken, naked eighteen-year-old back into her parents' house without looking like total creepsters, highly entertaining. Scott once again proves him an underused comedic talent, making Stifler one of the few characters who can rattle off colorful cuss words while showing a glimmer of humanity. Same goes for Eugene Levy as Jim's Dad, who finds his role beefed up now that he's once again single. Grieving for years over his wife's death, Jim helps his advice-dealing pop hit the dating scene and Levy spins gold out of the silliest of situations.

The problem with American Reunion is everyone else. Chris Klein never clicks with the rest of the group (that's what he gets for skipping out on Jim's wedding), while the rest of the ensemble feel ham-fisted for cameo purposes rather than complimenting the storyline. Tara Reid and Mena Suvari return to the franchise to stand around and react to the ineptitude of their male counterparts. Natasha Lyonne is in and out faster than Jim's first time. Other brief character appearances are like bigfoot sightings. The idea of bringing the entire cast of the original back for more seems perfect, but without proper pacing from writers/directors Jon Hurwitz and Hayden Schlossberg (Harold & Kumar Escape from Guantanamo Bay), there's never a moment to enjoy it.

American Reunion is a flaccid entry, servicing fans while coming through with enough laugh out loud moments to make one scream (In one scene, Jim takes a page out of Michael Fassbender's Shame that will elicit audible reactions). If these were fresh characters, we'd brush it off — but at the film's core is a lovable, familiar bunch of knuckleheads that can't be ignored. And if Stifler wants to party, you party.