Review Date: April 1st, 2012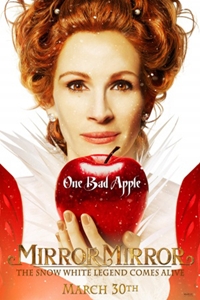 Theatrics, slapstick and cheer are cinematic qualities you rarely find outside the realm of animation. Disney perfected it with their pantheon of cartoon classics, mixing music, humor, spectacle and light-hearted drama that swept up children while still capturing the imaginations and hearts of their parents. But, these days, even reinterpretations of fairy tales get the gritty make-over, leaving little room for silliness and unfiltered glee. Emerging through that dark cloud is Mirror Mirror, a film that achieves every bit of imagination crafted by its two-dimensional predecessors and then some. Under the eye of master visualist Tarsem Singh (The Fall, Immortals), Mirror Mirror's heightened realism imbues it with the power to pull off anything — and the movie never skimps on the anything.

Like its animated counterparts, Mirror Mirror stays faithful to its source material, but twists it just enough to feel unique. When Snow White (Lily Collins) was a little girl, her father, the King, ventured into a nearby dark forest to do battle with an evil creature and was never seen or heard from again. The kingdom was inherited by The Queen (Julia Roberts), Snow's evil stepmother, and the fair-skinned beauty lived locked up in the castle until her 18th birthday. Grown up and tired of her wicked parental substitute, White sneaks out of the castle to the village for the first time. There she witnesses the economic horrors The Queen has imposed upon the people of her land, all to fuel her expensive beautification. Along the way, Snow also meets Prince Alcott (Armie Hammer), who is suffering from his own money troubles — mainly, being robbed by a band of stilt-wearing dwarves. When the Queen catches wind of the secret excursion, she casts Snow out of the castle to be murdered by her assistant Brighton (Nathan Lane).

Fairy tales take flack for rejecting the idea of women being capable, but even with its flighty presentation and dedication to the old school Disney method, Mirror Mirror empowers its Snow White in a genuine way, thanks to Collins' snappy, charming performance. After being set free by Brighton, Snow crosses paths with the thieving dwarves and quickly takes a role on their pilfering team (which she helps turn in to a Robin Hooding business). Tarsem wisely mines a spectrum of personalities out of the seven dwarves, instead of simply playing them for one note comedy. Sure, there's plenty of slapstick and pun humor (purposefully and wonderfully corny), but each member of the septet stands out as a warm, compassionate companion to Snow, even in the fantasy world.

Mirror Mirror is richly designed and executed in true Tarsem-fashion, with breathtaking costumes (everything from ball gowns to the dwarf expando-stilts to ridiculous pirate ship hats with working canons), whimsical sets and a pitch-perfect score by Disney-mainstay Alan Menken. The world is a storybook and even its monsters look like illustrations rather than photo-real creations. But what makes it all click is the actors. Collins holds her own against the legendary Julia Roberts, who relishes in the fun she's having playing someone despicable. She delivers every word with playful bite, and her rapport with Lane is off-the-wall fun. Armie Hammer riffs on his own Prince Charming physique as Alcott. The only real misgiving of the film is the undercooked relationship between him and Snow. We know they'll get together, but the journey's half the fun, and Mirror Mirror serves that portion undercooked.

Children will swoon for Mirror Mirror, but there's plenty here for adults — dialogue peppered with sharp wisecracks and a visual style ripped from an elegant tapestry. The movie wears its heart on its sleeve, and rarely do we get a picture where both the heart and the sleeve feel truly magical.

What do you think? Tell Matt Patches directly on Twitter @misterpatches and read more of his reviews on Rotten Tomatoes!

Hollywood.com rated this film 4 1/2 stars.